Top 5 2024 Jaylen Mbakwe commits to Alabama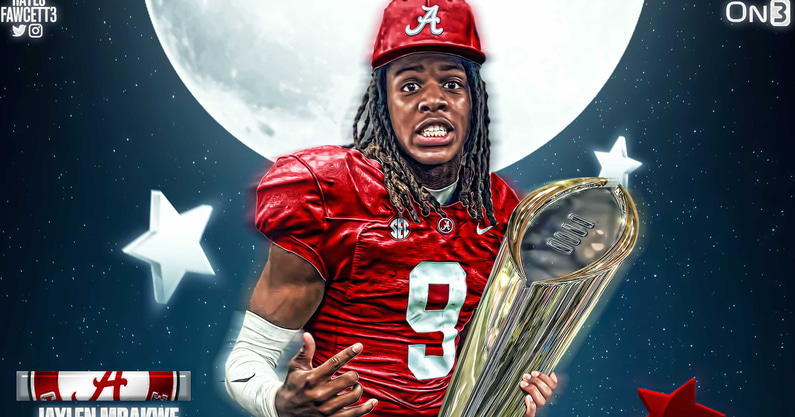 Elite athlete Jaylen Mbakwe of Pinson (Ala.) Clay-Chalkville High announced his commitment to Alabama Tuesday afternoon.
The 6-foot, 180 pounder chose the Crimson Tide over Ole Miss, Oklahoma, Notre Dame, Michigan State, and Texas A&M.
Mbakwe on why he chose Alabama
"The culture, atmosphere, fans, academics, coaches– just everything it felt like home to me."
Strong relationships with coaching staff + Alabama's plan for Jaylen Mbakwe
"I am closest with coach Roach and coach T-Rob," Mbakwe said. "It's like a big brother/ little brother relationship. They make me feel like a little brother how they treat me, and I like their coaching style. It really fits me."
"Alabama plans on using me as a defensive back," Mbakwe said. "That's where I will make my money."
Staying home and putting on for the home state
"It feels great," Mbakwe said. "Feels like a dream come true. I mean I grew up an Alabama fan so it feels amazing."
Mbakwe joins Martavious Collins and Perry Thompson in Alabama's 2024 class.
Jaylen Mbakwe Scouting Summary
"One of the more dynamic two-way athletes early on in the 2024 cycle," On3's Director of Scouting Charles Power wrote. "Stars on both sides of the ball for one of the top high school programs in Alabama. Has outstanding play speed, backed up by a personal best of 10.74 seconds in the 100 meters mid-way through his sophomore track season. Pulls away in the open field, easily out-running defenders. Dynamic with the ball in his hands both as a receiver and return man. Also shows the ability to separate on vertical routes. Returned several kicks for touchdowns. Also doubles as a productive defensive back, with high level ball production, totaling 4 interceptions and 12 pass breakups as a sophomore. Should he end up at defensive back, will need to continue honing his technical skills. Projects as one of the more electric athletes in the 2024 cycle."
Mbakwe ranks as the No. 5 player in the On300 rankings. He also tabs in as the No.1 athlete in the country and the top player in the state of Alabama.