Arizona State president gives unbelievable response to Herm Edwards remaining employed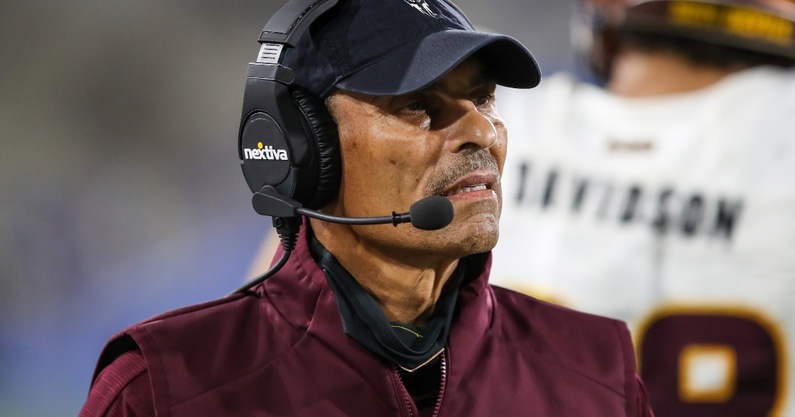 The future of Herm Edwards has been a hot debate throughout the offseason. While an exodus of assistant coaches has taken place for Arizona State, Edwards remained. According to Edwards' boss — Arizona State President Dr. Michael Crow — there's a simple reason for why Edwards is still the team's coach.
Still, Crow's reason is as unbelievable as it gets. Here's what the President had to say about the coach of the Sun Devils.
"On 98.7 FM today ASU President Dr. Michael Crow in reply as to why Herm Edwards is still the football head coach, Crow said that the assistant coaches that didn't play by the rules are no longer on staff and Edwards never asked those coaches to not play by the rules," tweeted Devils Digest.
Evidently, Crow and Edwards are taking the approach of placing the blame on the assistant coaches that are no longer with the team. Even though Edwards oversaw their hiring and process, Crow isn't blaming Edwards for the team's violations.
Arizona State has been one of the biggest messes in college football this offseason. Evidently, President Dr. Michael Crow believes Herm Edwards is the one who can clean it up. However, Edwards hired the men who started the mess in the first place.
More on Herm Edwards, Arizona State Sun Devils
Apparently the exodus of Arizona State assistant coaches isn't hurting Herm Edwards. Earlier, defensive coordinator Antonio Pierce resigned, coming just days after offensive coordinator Zak Hill did the same after an investigation. Moreover, former wide receiver coach Prentice Gill, secondary coach Chris Hawkins and tight end coach Adam Breneman are also on the outs.
Additionally, it isn't just coaches on their way out of Arizona State. Last week, star quarterback Jayden Daniels transferred out of the program.
He tied for first in the Pac-12 with a 65.4% completion percentage to help Arizona State to an 8-5 record in 2021. He also totaled for 2,381 yards and 10 touchdowns, but threw 10 interceptions in 13 games.
At ASU, Daniels completed 62.4% of his passes for 6,025 yards and 32 touchdowns in 29 games over three years.
Out of high school from the class of 2019, Daniels was a four-star recruit and the No. 8-ranked recruit from the state of California, according to the On3 Consensus, a complete and equally weighted industry-generated average that utilizes all four major recruiting media companies.
As you can see, sweeping changes are taking place at Arizona State. Just not Herm Edwards. The Sun Devils coach will get another shot to bring Arizona State into a new era.