Sam Pittman addresses 'Horns Down' after Arkansas victory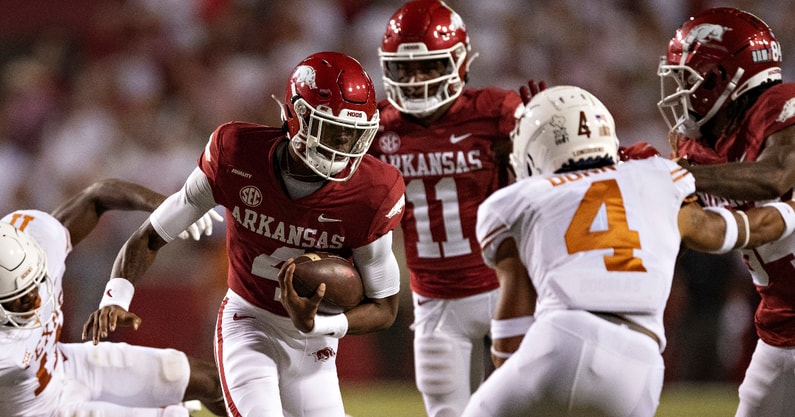 The jukebox was on, the rushing attack was potent and the No. 15 Texas Longhorns had no answer for Arkansas on Saturday, as Razorbacks' head coach Sam Pittman handed the Longhorns a road loss in Texas' first game against an SEC opponent since accepting a bid to join the conference.
Arkansas ran for 333 yards, with five different rushers tallying over 40 yards on the ground, Pittman's defense held Texas to 256 yards of total offense and the Razorbacks held on to beat their former SEC rivals 40-21. In front of 74,531 fans, a top-ten crowd in Arkansas history, Pittman and his team found themselves swarmed by fans after the game, as the field was stormed in jubilant fashion.
In recent years, when Texas has lost to some of its foes — Oklahoma comes to mind — the winning team has responded with an exclamation point, the icing on the cake, a cherry on top, so to speak, by flashing a "Horns Down" symbol, mocking the Longhorns' signature hand symbol.
But not Pittman.
After Arkansas' emphatic victory, Pittman was asked whether he would partake in the "Horns Down" victory lap, and he wasted no time in shooting it down.
"No, I ain't doing that," Pittman said after the victory. "That ain't my style. If anybody wants to do it, you can do it. But that's not my style."
Arkansas rushes to victory
Junior running back Trelon Smith had 12 carries for 75 yards and a touchdown; sophomore quarterback KJ Jeffereson had ten rushes for 73 yards; freshman running back AJ Green had seven rushes for 67 yards and a touchdown; running backs Raheim Sanders and Dominique Johnson each ran for a score of their own. It was a truly dominant display of ground-and-pound offense by the Razorbacks, who needed just 138 passing yards from Jefferson to get the job done.
"Isn't that something? [Offensive line coach Cody Kennedy] comes in June, June the fourth or whatever it was. And we rush for 333 yards, average like seven-plus yards per carry. He's got some really hard-working kids."
Pittman hired Kennedy in June to rebuild the Razorbacks' offensive line, and so far, so good — Kennedy's offensive line was dominant on Saturday, allowing the Arkansas rushing attack to dominate the Longhorns.
"I just wanted to thank the people of Arkansas," Coach Pittman said after the victory. "I just hope that tomorrow they wake up, and they're excited about Arkansas football again."
The Razorbacks' rushing attack gave fans every reason to be excited. And frankly, its defense was hardly any different, holding Texas to just 21 points, 256 yards of total offense and four third-down conversions in 13 attempts.