Sam Pittman calls on offense to set up, move the ball against LSU after slow first half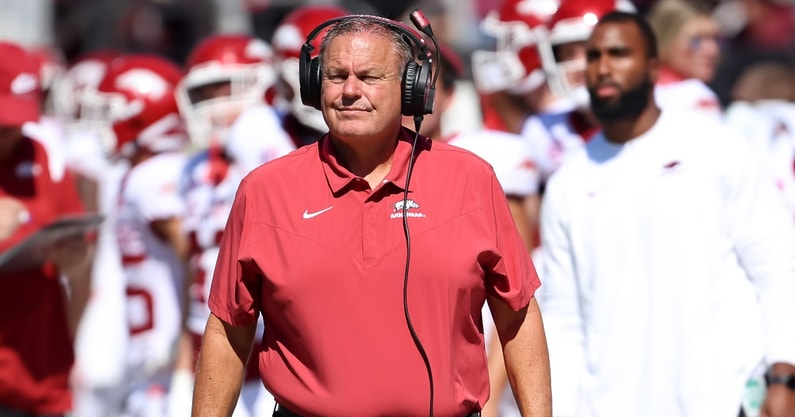 Arkansas hasn't been able to get anything going in the absence of starting quarterback KJ Jefferson. Trailing No. 7 LSU 6-3 as the second half began, Razorbacks head coach Sam Pittman called on his entire offense to step up in the game's final two quarters.
"We need to throw the football. Malik [Hornsby]'s got to let it go," Pittman said. "We're waiting for the guy to come wide open. We know what the route is. We've got to throw the ball faster, otherwise, we're not going to be able to hold up, not be able to protect it that long.
"We've got to find a way to run the football, we've got to move the back a little bit, do some things that — right now, they're blitzing away from the back and we've got to do some things to make that happen, where we're moving the back and they don't know which way he's going. I think we're in good shape, we've got the ball, we'll see what happens."
CLICK HERE to subscribe for FREE to the On3 YouTube channel
Hornsby went 3-of-7 passing for 19 yards and took 16 carries for 40 more against the Tigers in the first half. Thankfully for the Razorbacks, LSU hasn't been able to do much better. Arkansas has a chance to pull off the upset of its season at home against the Tigers, and in such a low-scoring game, every point matters.
Catch the second half live on ESPN.
Sam Pittman reaffirms confidence in Arkansas QB Malik Hornsby
As Arkansas prepares to face LSU this week, it looks like Sam Pittman will be starting Malik Hornsby at quarterback in light of the shoulder injury to KJ Jefferson. Earlier this week, Pittman asserted his confidence in Hornsby to step in.
"Certainly Malik practiced well last week and has practiced well this week," the coach said. "We believe in him. I think there's a misconception that we don't believe in Malik, but we believe in KJ and I think he's proven that we should. But we certainly have belief in Malik that we can go in there and win the game with him. So we've got to take all those factors in and see where we go from there after today, tomorrow."
A former four-star recruit and the No. 13 quarterback in the 2020 class according to On3 Consensus, Hornsby started once already this season when Jefferson was out against Mississippi State. He finished that game 8-of-17 passing for 234 yards, one touchdown and two interceptions while adding 114 yards rushing. 
Sam Pittman noted that Malik Hornsby has similar strengths to Jefferson, but also expects the offense to approach things slightly different should Hornsby get the start.
"We're very confident with him running all of it," he said. "I do think he has a lot of similar skillsets as KJ and then some different. So certainly if he's the quarterback Saturday, we would have a few different plays for his skillset than possibly what KJ's is. We're prepared for a couple of similar, yet different game plans if that makes sense."