Tennessee safety Anthony Brown commits to Arkansas Razorbacks football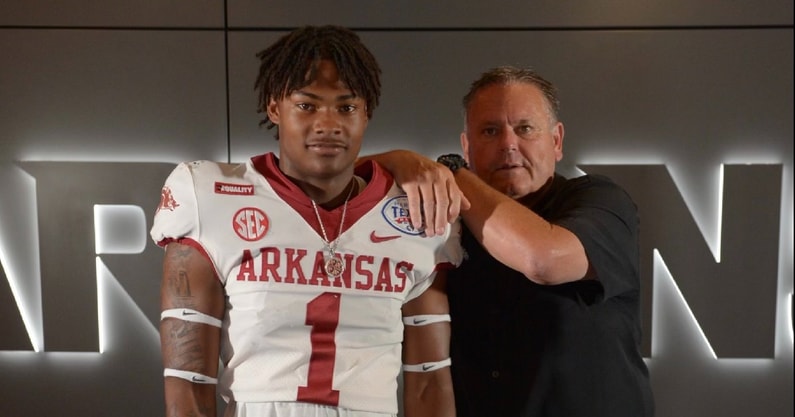 Milan (Tenn.) High 2022 three-star safety Anthony Brown called the Hogs, committing to the Arkansas Razorbacks on Tuesday. Brown picked Arkansas over Tennessee, Wisconsin, Illinois and Indiana.
Over the course of his recruitment, the 6-foot, 180-pound defensive back earned offers from 35 D-I programs. He took official visits to Arkansas, Indiana and Memphis, but the Razorbacks stood out.
"Arkansas just felt like home," Brown said. "Since my recruitment took off, we've had a relationship. Coach (Sam) Carter, he's more than a coach. He's like a father-figure, best friend, all in one."
Sam Carter, the Razorbacks' second-year cornerbacks coach, can be credited with getting Brown on board as the 2022 class's 18th member.
"That relationship, it helps a lot," Brown said. "You talk to his players and they tell you, 'he's going to take care of you.' He'll take care of you on and off the field, if you need anything, family issues, he's someone you can come to."
Brown waited until now to commit, but for months he's had the feeling of wanting to make things official.
"Choosing from 37 schools made it harder," Brown said. "I'm extremely excited to have it over with and to get to school."
The top-15 Tennessee prospect will get to Arkansas sooner than later as he's planning to graduate in December and enroll for the spring semester on the Hill.
Arkansas comes up with another big win with Anthony Brown
The freshly ranked No. 20 Razorbacks are coming off a win over the Texas Longhorns. New commit Anthony Brown was in attendance and the performance helped him solidify his decision.
"It was crazy," Brown said. "I felt like I was a Razorback already from going into the locker room after the game and being on the field before."
A future member of Barry Odom's safeties room, the three-star was especially impressed with their performance. The defense held the Longhorns to seven points through three quarters.
"They came to play, they really didn't give up too much except late in the game and with off-field position," Brown said.
Anthony Brown was hosted by Arkansas star safety Jalen Catalon on his official visit in June.
Brown loves Arkansas culture
In a state with no professional sports teams, the Arkansas Razorbacks are the most-followed team in the state. That all-in focus on the Hogs makes becoming one that much more attractive.
"Fayetteville is a tremendous place, they have the whole state behind them and that means a lot," Brown said. "I've been up there enough for people to know me, I'm pretty locked in with people up there."
Brown has racked up 18 tackles, two tackles for loss and a handful of receptions with a touchdown so far in his senior season. This Friday, Milan will play Brownsville (Tenn.) Haywood, giving Brown the opportunity to matchup versus fellow Arkansas DB commit Jaylen Lewis.
Arkansas may be done with high school prospects at 18 commits for the 2022 class. Sam Pittman will likely fill any remaining spots in the class with transfers.
Anthony Brown setting lofty goals
Brown sees an opportunity to break into the Arkansas secondary early in his career.
"I want to go hard, first-team SEC as a freshman," Brown said. "My goals are pretty high. I want to be in the race for the Thorpe or the Heisman by my junior season. I know they're high but that's just me though."