WATCH: Auburn guard Zep Jasper inks NIL deal with Jarritos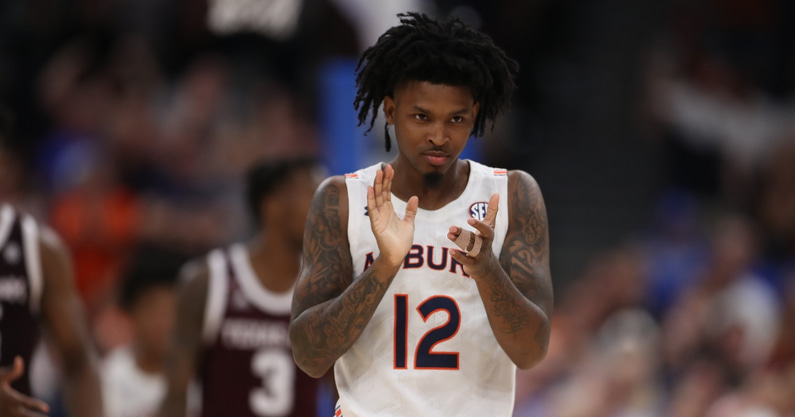 Auburn guard Zep Jasper is known for his ability to take care of the basketball and being an on-ball lockdown defender for the Tigers' basketball program. The star guard recently inked an NIL deal with Jarritos and made the announcement via his Instagram page. Jarritos is a group of all-natural, fruit flavored sodas from Mexico.
Check out his announcement below.
Last year, Jasper averaged 5.1 points, 1.3 rebounds, and 2.1 assists per game for the Tigers. His season-high in points came on Feb. 23 against the Ole Miss Rebels — when he stuffed the stat sheet with 15 points on 5-of-7 shooting from the field.
He transferred to Auburn from College of Charleston — where he spent his first three years of college basketball. In the 2020-2021 season for College of Charleston — Jasper averaged 15.6 points, 3.7 rebounds, and 2.6 assists. His career-high in points for the Blue Crabs came on Feb. 20, 2021, when he erupted for 38 points. He earned CAA All-Defensive team honors and was also named to the All-CAA second team for the 2020-2021 season.
A native of Augusta, Georgia, the 6-foot guard attended Laney High School. During his senior season, Jasper averaged 21 points, six assists, five rebounds, and three steals per game. He led the Wildcats to a region title and an appearance in the Class AAA state quarterfinals. During his four years there, the program made three appearances in the Final Four in the state playoffs.
The team put together an 84-15 overall record when he suited up for them. Jasper became just the fifth player in school history to reach 1,000 points. Following high school, he played one year at Notre Dame Prep School (Fitchburg, Massachusetts)–where he averaged 22.3 points per game.
An excellent on-ball defender, Jasper has earned the nickname "Honey Badger". Former LSU star Tyrann Mathieu also has that same nickname.