Cadillac Williams: What an Iron Bowl victory would mean to him, seniors and Auburn program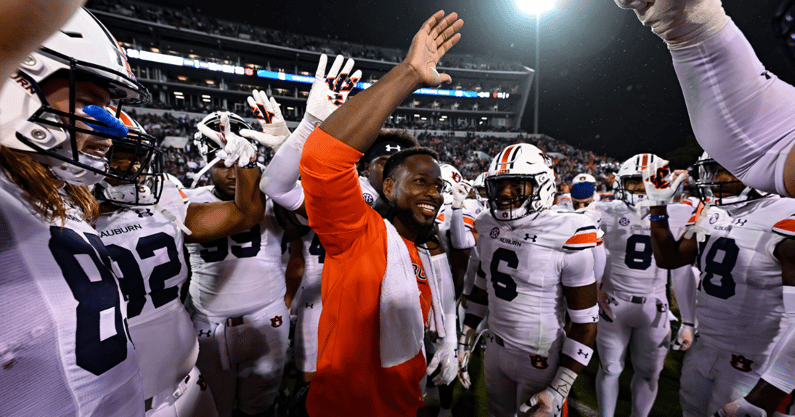 Cadillac Williams has an opportunity to become the third Auburn coach since 2008 to win the Iron Bowl – and this time, the stakes couldn't be higher.
Auburn (5-6) is one win away from clenching bowl eligibility, and Williams knows there's no better way to celebrate the 2022 senior class than extending their college careers one more game and handing Nick Saban his third regular season loss for the second time as Alabama head coach.
"It means so much to me for these seniors, to be honest with you. We have a group of guys in that locker room where nobody has ever won in Bryant-Denny Stadium," Williams said Tuesday. "To come out with a victory – that will be huge. Again, I honestly mean this, whatever happens on Saturday, I want to enjoy today. We started the process today. We start our practice, our walkthrough. We started grinding. We started working.
"In order for us to even have a chance for Saturday, we have to take care of today. And to me, it's all mindset and that is what's starting at five o'clock. We are not worrying about Saturday. We have to take care of Monday to give us an opportunity to have a shot on Saturday."
CLICK HERE to subscribe for FREE to the On3 YouTube channel
In a season that has seen coaching turnover, expected transfer portal entries and de-commitments from recruits, those seniors that stuck through the bad and the ugly could receive the ultimate reward: defeating Alabama on its home turf and clinch bowl eligibility at the last possible second.
"For one, it's the last time for a lot of these guys. It's the last time that they're ever going to play football. This game of football is so special," William said. "It's why you all are here. It's why I got the opportunity to be here at Auburn. It's why a lot of these guys in this locker room, these coaches, why we're all together. Because of that ball. A lot of these guys' identities are wrapped up into ball.
"To go out as a winner against your rival and in the Iron Bowl – what better way is there to go out?"
Kickoff for the Iron Bowl is set for 3:30 p.m. ET live from Tuscaloosa on CBS.