Paul Finebaum talks rumors of Bruce Pearl leaving Auburn for Louisville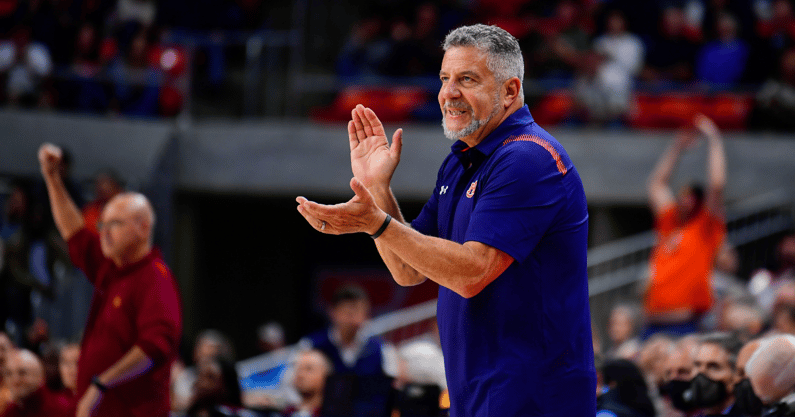 Bruce Pearl has a good thing going at Auburn – there's no question about it. His 2021-22 Tigers squad has played nearly perfect basketball all throughout the season, and that's why they are ranked No. 1 in the country and riding a 15-game winning streak.
While Pearl has built the Auburn program up to where they are now, his name is starting to be thrown around with other schools that could potentially have job openings before too long. Among those schools is Louisville, who's program has been struggling this season under coach Chris Mack.
With Mack on the hot seat with the Cardinals, Pearl's name has been mentioned as a prime candidate to take over at Louisville after Mack's gone. For ESPN's Paul Finebaum, he doesn't think that Pearl would leave what he has going at Auburn for a declining UofL program.
"I don't believe it," Finebaum said. "And I say that because he knows what he has there, guys. I also think he's appreciative of the Auburn administration standing by him. A lot of places may not have done that. It would've been convenient just to say, 'You know what? We're going to clean house,' even though we all know how that investigation turned out. I think there will be a sense of loyalty.
"I feel like I know Bruce Pearl – I've known him for nearly 20 years. I don't know why he would think Louisville is a better opportunity right now. There was a time when it was, but here's the problem I have with Louisville: It's star has been dimmed and, let's be honest, why does he want to leave a program to go someplace where he is in the shadow of Kentucky?"
Bruce Pearl shares how he is keeping Kentucky win in perspective
While Saturday's game provided Auburn Arena with a phenomenal atmosphere and was a blast for everyone involved, especially the students that camped outside the arena overnight, Auburn head coach Bruce Pearl was all smiles during his postgame press conference following his team's win over Kentucky.
"It's fun," Pearl said of the atmosphere that was created Saturday. "Jabari [Smith] even said to me, 'Hey Coach, is this going to get you to smile?' But my job is to train this team and keep some things in perspective. I am grateful to Auburn. I am grateful to our students. If we had lost the game, I would've felt bad for them because they froze their a**** off last night. We did everything we could to feed them and hydrate them, but we couldn't keep them warm."
Following its big win over Kentucky, Auburn returns to action Tuesday on the road at Missouri, with tipoff set for 8:30 p.m. ET on the SEC Network.