Former Auburn linebacker Tre' Williams lands coaching job at Arkansas-Monticello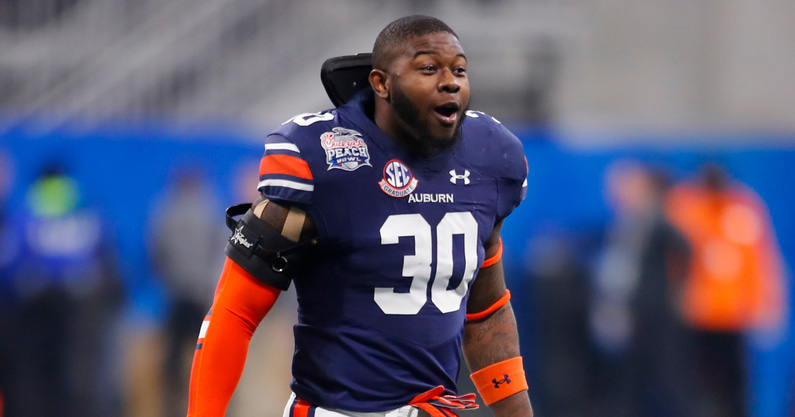 Auburn Tigers alum Tre' Williams is taking an assistant coaching job at the University of Arkansas-Monticello, according to On3's Matt Zenitz. The former Tigers linebacker will coach the same position for the Boll Weevils.
Williams was a graduate assistant at the University of Central Florida last season with his former head coach Gus Malzahn. He is now taking over his own position group for the first time. Prior to UCF, he coached at Thompson High School in Alabaster, Alabama.
"My wife and I feel very blessed to call Monticello our new home," Williams wrote in the team's announcement. "We are so excited for this opportunity and look forward to being a catalyst for change. This football program has a bright future and I'm thankful to be a part of what's ahead. I would like to thank God first, my family and my previous leadership. I wouldn't be as prepared as I am to serve this team if not for any of these people."
At Auburn, Williams earned second-team All-Southeastern Conference honors in 2017. His career included 188 tackles, 3.5 sacks, two fumble recoveries and a pair of pass breakups.
He signed with the Detroit Lions in 2019, and had stints with two other NFL teams before playing for the LA Wildcats in the XFL.
Williams is a Mobile (Ala.) native. He attended St. Paul's Episcopal where he was a top-30 prospect in the class of 2014.
Patriots trade former Auburn QB Jarrett Stidham to Raiders
The New England Patriots have traded backup quarterback Jarett Stidham to the Las Vegas Raiders, according to NBC Sports Boston's Albert Breer. To complete the deal, he will be packaged with a 2023 seventh-round pick in exchange for a 2023 sixth-round pick.
A former Auburn and Baylor star, Stidham was drafted No. 133 overall in the fourth round of the 2019 NFL Draft. He has only seen the field sparingly over his first three seasons. Now, he gets a fresh opportunity to establish himself as a capable backup in the league.
After the Patriots drafted former Alabama quarterback Mac Jones in the first round last year, it became clear that Jarett Stidham would serve as a backup or be traded. With the team again selected a quarterback this year in Bailey Zappe, there was no longer a future for the older player.
In Las Vegas, the Raiders have invested big in starting quarterback Derek Carr. They brought in plenty of offensive weapons to make another playoff run under new head coach Josh McDaniels. With Marcus Mariota leaving the team for a starting opportunity with the Atlanta Falcons, the second-string job is up for grabs.
On3's James Fletcher contributed to this report.