Johni Broome breaks down Auburn's second half defensive struggles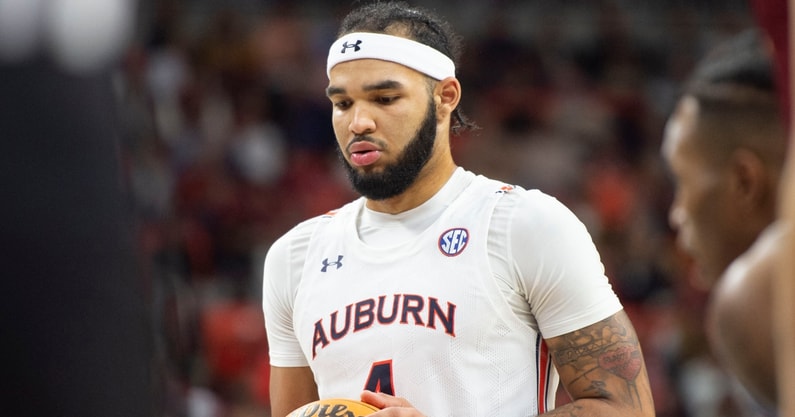 By the look of the final score, it appeared that Johni Broome and the Auburn defense had a great game Saturday in their 81-66 victory over South Carolina.
They did — at least in the first half. The Gamecocks shot only 25.8% in the first half on their way to 22 points. The Tigers took a 39-22 lead into the second half.
But the second half was a different story. South Carolina doubled its first half output to the tune of 44 points. One of the big differences was the Gamecocks ability to get to the free throw. South Carolina got to the charity stripe 18 times after only going six times in the first half.
While the victory was cause for celebration, Broome acknowledged the second half defensive struggles were not ideal.
"I feel like we got a little stagnant," Broome said. "We was a little late to sports. We didn't jump out and force them to take tougher shots. We fouled a little too much, they shot like 19 free throws in the second half. We need to cut that down. They dealt with their points in the second half so defensively coming out of halftime, we got to be able to get a couple more stops."
Johni Broome is a key player for Auburn
Johni Broome is one of the reasons for Auburn's 16-3 start to the 2022-23 season. He is averaging 13.1 points and 8.6 rebounds per game. That is second on the team and first on the team respectively.
The Morehead State transfer had arguably his best game of the season against South Carolina. He scored a season-high 27 points and grabbed 11 rebounds while shooting 12-for-17.
"Coming into the game, we knew that a lot of plays were going to work for the short rolls and late at the rim. So, that's what we did. I saw (Wendell Green Jr.) had 13, 12 assists. He was doing a great job passing the ball and looking guys off; making the right play," Broome said.