Hugh Freeze explains his expected timeline to fill out Auburn coaching staff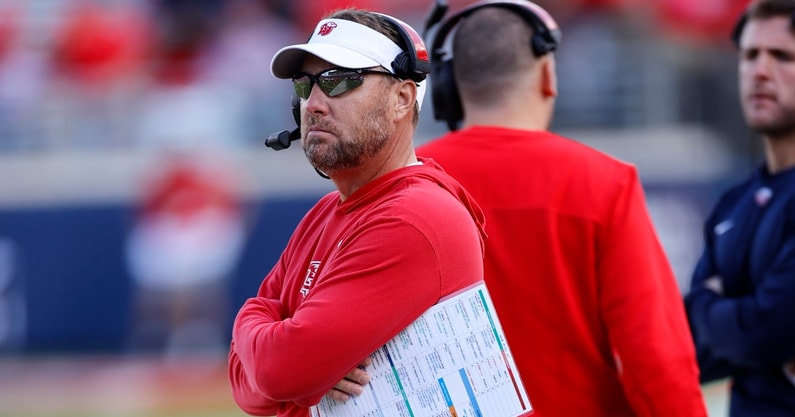 Former Liberty head coach Hugh Freeze was officially announced as Auburn's new head football coach on Monday, becoming the Tiger's 28th coach in school history. In his first press conference Tuesday, Freeze was asked about his next task at hand, filling out the remainder of Auburn's coaching staff moving into the offseason.
"I've got a list of every position and a lot of great candidates, there's some here, there's some where I just came from, and they're all around the country, I'm constantly getting texts. My agent who I have forgotten to thank Jimmy Sexton, he's not only been a great agent but he has been a dear friend to me through a lot of tough times and he's been strong and faithful and I thank him," Freeze said getting emotional. "But he's got a little whole list too that he presents to me this morning."
Freeze has 10 years of head coaching experience across three different programs, likely having a vast and network of coaching options to build out his staff. Despite this, Freeze did show some hesitancy on building his staff, which he attributed to the uncertainty of knowing if he'd secure the Auburn job.
"I just hadn't had a chance yet, I was so hesitant during the process to respond to media or to respond to 'this guy' that would text me and I'm like, 'oh my god that'd be a great hire'. But I was just so guarded because I wasn't real sure exactly what John (Cohen) was thinking or Rich (McGlynn). I knew I was in it, but you really couldn't tell exactly where you were and you felt kind of good every time I talk to him and loved visiting with him," Freeze said.
Freeze's visits worked in his favor, as he signed a six years contract with Auburn that averages $6.5 million per year. He's yet to fill out his coaching staff, but has already made one move early in his tenure, as he promoted former interim head coach Cadillac Williams as his associate head coach. There are still plenty of moves to be made for Freeze, but he started off strong with Williams, and plans to hit the ground running in hiring the rest of his staff soon.
"So I was just so guarded that I really haven't turned my attention to that yet, but it will happen quickly this afternoon, hopefully when I wind up all the events of this morning," Freeze said.