Paul Finebaum explains how Bryan Harsin earned his respect at SEC Media Days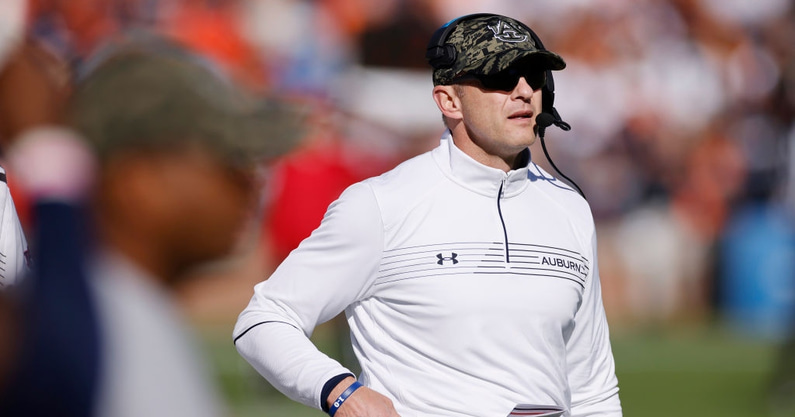 Auburn's Bryan Harsin was one of the big names at SEC Media Days last week. It wasn't because of big success last season or anything headed into this season. The hype came because it was one of the first times we'd heard from the Tigers head coach after the fiasco that led to an Auburn investigation and weeks of unfounded rumors. He opened his press conference by addressing the issue and stated he wouldn't address it any further. Based on how he handled it, he earned the respect of ESPN commentator Paul Finebaum.
During an episode of 'McElroy & Cubelic In The Morning', Finebaum chimed in to discuss Harsin's appearance in Atlanta last Thursday. He said he respects Harsin for how he went straight at the topic.
"I didn't know what was going to happen with Bryan Harsin…I nearly forgot about (the story) with everything else that is going on. (We were) thinking about all the expansion news and so much else that when he stood up there I forgot they almost fired him at Auburn. (We were) struck by what he said and how he said it because he could have chosen a lot of paths," said Finebaum. "What I respect about Bryan Harsin is that he met it head on. He did not eqivocate, he didn't cover for the people who wanted him out, but he laid it down. He said, 'you guys tried to fire me and you failed.' I really respect that."
Harsin went 6-7 during his first season in the SEC. Naturally, that isn't the expectation at Auburn. It was what happened after the season, though, that dominated the storyline around his program. The saga between Harsin and university boosters begged the question if he would even be back for a second year. He is and with that being the case, Paul Finebaum thinks those at the school who came for Harsin's job owe him an apology.
"Now, conversely, does it make any difference whatsoever if he loses to Penn State and LSU and completely unravels? Of course it doesn't. I think what it does show is the absolute hypocrisy of that university of people hiding under rocks or in closets and not admitting what they tried to do. They tried to fire an innocent man. Not innocent of having an average to terrible season, not innocent of failing to recruit well enough to meet the standard, but innocent of trying to accuse him of something that he didn't do," said Finebaum. "I'd like some of these fat cats to come out of their castles and admit they were wrong. At least I can have a modicum of respect for these guys who tried to fire him as opposed to having no respect whatsoever for what they attempted to do to him."
Harsin's leash is still quite short entering his second season. Another season not up to at least par could spell the end of a short stint. However, Harsin took the right approach in how he spoke on the matter. In doing so, he earned the approval of Paul Finebaum and those at Media Days. Harsin addressed it, he is moving on, and is ready to start the season against Mercer on September 3rd.