4-Star EDGE David Ojiegbe: "I know I can be great at Clemson"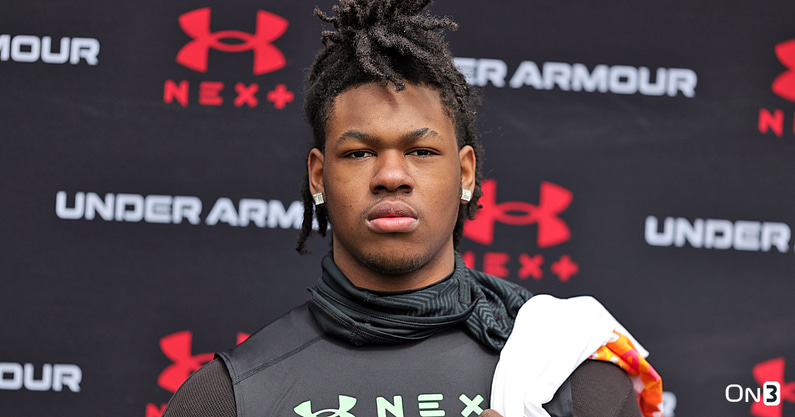 Washington, D.C. St. John's EDGE David Ojiegbe was leaning towards North Carolina at one time. At one time, he thought about committing to the Tar Heels. Miami was another school that had him thinking hard about a decision, but after visiting Clemson early in March, things started to shift towards the Tigers.
On March 5, the No. 226 prospect in the On3 Consensus visited Clemson for the first time. That is when the Tigers offered.
After building a relationship for a month, the 6-foot-3, 235-pound four-star was back. On April 9, before Clemson's spring game, Ojiegbe committed to the Tigers.
He was in Dabo Swinney's office and made his declaration known.
"It was kind of the plan to commit that day, but I really wasn't 100% sure until I got there," Ojiegbe told On3. "I watched coach Swinney give the introduction before the spring game and I knew I was ready. I felt it.
"The feeling I had the first time I was there was stronger and I knew Clemson was the place for me. Not long after that introduction, I committed to coach Swinney and coach Lemanski Hall."
With Ojiegbe's commitment, Clemson now has four this cycle.
The culture at Clemson is right for Ojiegbe
Regardless of who you talk to after they visit Clemson, they speak highly of the culture. It is something coach Swinney takes pride in and that is something that drew up the No. 2 prospect in Washington, D.C. in.
"It is different for sure. Everyone is together at Clemson. It is a true family environment and everyone wants to be there. They work together well, the vibe is happiness, and it is easy to see why people talk about the culture at Clemson.
"Coach Swinney has great character, he is a player's coach, and he cares for his players. After visiting the first time, I could tell the things were different, and it is something I want to be a part of."
Coach Hall was a big part of this decision too. The two have formed a strong bond and Ojiegbe is ready to go to work for the Clemson defensive line coach.
"Coach Hall's resume is strong. He has a great group there this season and a lot of those guys will be drafted soon. I know he can coach really well, but he also is a great person. He is down to earth, he is easy for me to talk to, and I know he wants the best for his players in life after football.
"My relationship with him has gotten really strong. He is about the little things and the details on and off the field. I am excited to work with coach Hall."
Ojiegbe found his future home
With the commitment behind him, Ojiegbe is now focused on his senior year. While that is his main focus, he can't help but look ahead to his future in the ACC.
"Clemson has faith, family, the big stage, and great people, so I am feeling good about my future," Ojiegbe said. "It was difficult at first and I thought about this decision for a while, but I knew I found my school when I got to Clemson.
"I thought I would commit over the summer, but there was no reason to wait. I know I can be great at Clemson and that is where I want to be."