4-star RB David Eziomume commits to Clemson: 'It was like home'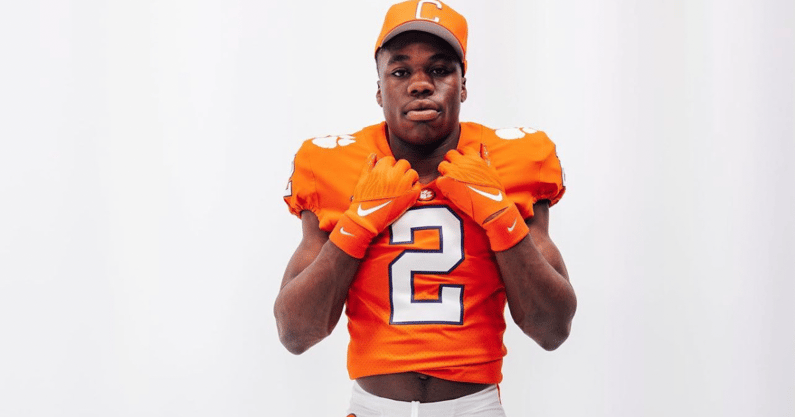 Kennesaw (Ga.) North Cobb four-star running back David Eziomume has been to a lot of places and seen a lot of things in his recruitment.
Nothing measured up to Clemson. The No. 328 overall prospect in the 2024 On3 Industry Rankings has committed to the Tigers.
Eziomume didn't see any more need to wait. Clemson won him over a while ago. Eziomume's visit to Clemson on Jan. 28 sealed the deal.
"Every time that I walked on campus it was like home," Eziomume said. "I've been to Clemson before but it was different (on Jan. 28). Meeting everybody and seeing the new offensive coordinator Garrett Riley and knowing the offense he runs. There's so much to it. Your head coach is humble, he's a great man and he's talking to everybody. You can see the energy. He doesn't put on an act."
Clemson's culture and faith-based values led by head coach Dabo Swinney also stuck out to Eziomume. The four-star running back's father was a pastor. He's grown up with a lot of the same values being taught many of the same values that Clemson holds dear.
"I was born into this and it just kind of stuck with me," Eziomume said. "Knowing you're going to be at a school where you're going to grow is something special…It's really a better life."
David Eziomume a priority at Clemson
The Tigers have made it clear to Eziomume that he was a priority for them. He's the only running back the Tigers have offered in the class of 2024. For Eziomume, that was a major selling point.
"I've been out and seen places but after Clemson offered me and being the only running back they've offered in the class of 2024 kind of put my head on the spot," Eziomume said. "Just knowing that having the chance to be the only back entering in as a freshman is something special."
Eziomume has played all over the field in high school. He split carries with 2023 Michigan signee Benjamin Hall. He was listed as an athlete for much of his recruitment. Clemson overlooked his roles elsewhere and honed in on Eziomume as a running back. The four-star running back appreciated that from the Tigers staff.
"It meant I had their trust already," Eziomume said. "I had a selfish attitude about it. Many people in our position would have just transferred to go to another school. Clemson saw my attitude. It really stuck with me and stuck in my heart. Knowing that you're the only running back in the class of 2024 is big. Seeing all these other top backs getting offers and Clemson just put their trust in me."
CJ Spiller played a major role
Clemson running back coach CJ Spiller was a big part of the process for Eziomume as well. The former Tigers' star has grown close to the four-star running back. Spiller's experience as a former star recruit made him a relatable resource for Eziomume.
"He was once in the position so he knows how this goes," Eziomume said. "The longer you think about it and he's checking in on you and asking you how your week is going. It's like another one of your brothers. Knowing that your coach is going to be like your friend and be laid back is big."