Clemson star PJ Hall will return to school, pass on NBA draft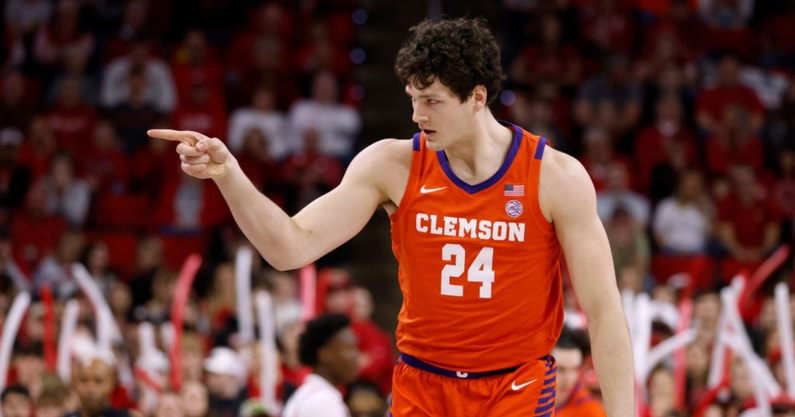 Clemson star PJ Hall has made his decision on the NBA draft.
Hall is returning to Clemson, he announced Thursday morning on social media.
The All-ACC performer declared for the draft back in March. He took part in the G League Elite Camp and ended up earning an invitation to the NBA combine after performing well.
The forward improved his stock with his play at the G League Elite Camp, the NBA combine and in private workouts. However, ultimately he decided to remain a Tiger.
Hall led Clemson in scoring last season, averaging 15.3 points, to go along with 5.7 rebounds per game.
He shot 53.5 percent from the field, 39.8 percent from 3-point range and 78.6 percent from the free throw line in 2022-23.
The former Dorman star is a versatile big who can score around the basket or step outside and knock down 3-point shots. With Hall back, Clemson has a chance to have a special season in 2023-24.
Prior to Hall declaring for the NBA draft back in March, he spoke about his future and what his decision would come down to.
"I couldn't tell you, man, I mean obviously I love Clemson. I would love to be back here," he said. "As of now, if that's what God has in store for me, for sure. I don't see anything crazy happening. I definitely would love to be playing next year, but we'd have to see."
PJ Hall performs well at G League Elite Camp
On3's Jamie Shaw was on hand at the G League Elite Camp earlier this month. Here is what Shaw had to say about Hall's performance in Chicago:
"In his career, PJ Hall has made a name by playing within himself at an extremely high level. Hall carried that over to the G-League Elite Camp. He is a grinder, a grunt work guy who collects floor burns and sets jarring screens. He also shot 39.8 percent from three this season at Clemson. Hall did a good job of getting to his spots off the ball, setting up balanced, and moving with the ball handler to give a clean target.
The measurements will be big for him; if he does measure his listed 6-foot-10, his skill set could be quite valuable. He does have good length, and the shooting was pure here. The lateral quickness is a question, can he turn his hips and move and switch on that end as the players continue to get bigger and more athletic? Hall finished with 17 points, going 6-of-13 from the field and 3-of-7 from three."
Hall ended up measuring at 6'8.25″. He weighed 241 pounds