Clemson offensive lineman sidelined for the season with torn ACL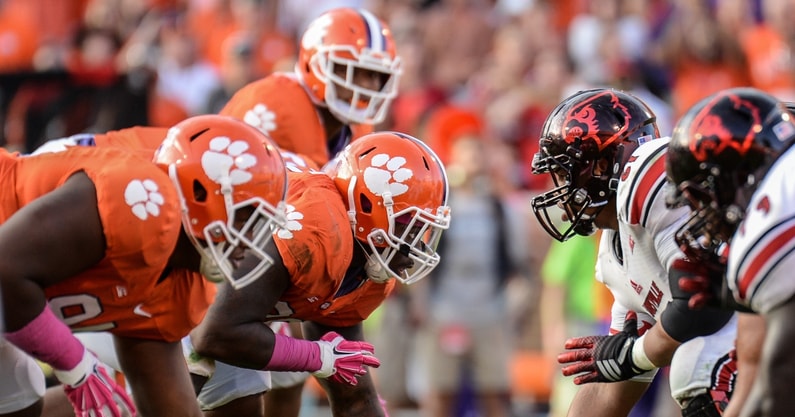 Offensive line woes continue for the Clemson Tigers. 
True freshman Dietrick Pennington suffered a torn ACL after making his Clemson debut last weekend against South Carolina State. He will miss the remainder of the season. 
"Dietrick is a big blow because I think he was on his way to really, really becoming a very consistent contributor for us and a definite big-time depth guy," Clemson head coach Dabo Swinney said Tuesday.
Swinney indicated yesterday that the former four-star recruit from Memphis was "banged up" but did not specify the severity of the injury. 
"He's a very big, strong, active kid," Swinney added. "He's learning. Didn't get to play as much as we would've liked, but hopefully he'll be fine."
Pennington is the third offensive lineman Clemson has lost this season; John Williams is out for the year and Tayquon Johnson is out for the regular season but could return for postseason play.
Offensive line gets much needed confidence boost against SC State
To date, Clemson's offensive line has been a collection of players moving around to various roles with frequent substitutions. The lack of clarity and consistency clearly cost them against Georgia and could remain an issue throughout the season.
While Pennington was not a starter, as Swinney said, he was becoming a critical piece of an inexperienced Clemson offensive line that struggled mightily against the Bulldogs.
The Tigers totaled just two rushing yards and quarterback D.J. Uiagalelei was sacked seven times in the 10-3 loss on opening weekend.
They played much better, albeit against an FCS opponent where they were expected to play better, on Saturday. In a 49-3 rout of South Carolina State, Clemson rushed for 242 yards and allowed zero sacks. True freshman Will Shipley led the team with 80 yards on eight carries and two touchdowns, while Uiagalelei added two scores and 23 yards on five carries. Shipley is one of the fastest players in the country, and if the offensive line can find a way to create holes for him as the season progresses, he will be a nightmare for opposing defensive coordinators.
Backup quarterback Taisun Phommachanh threw the first touchdown pass of his Clemson career after stepping in for Uiagalelei in the third quarter Saturday. He went 7-for-10 with 75 yards.
Clemson's schedule currently has zero ranked teams left on it, and after NC State's loss to Mississippi State last weekend, that Sept. 25 matchup has lost a fair amount of its luster.
They host Georgia Tech on Saturday afternoon at 3:30 p.m. ET on ABC. So far, Georgia Tech has the second worst run defense in the ACC, allowing 157 yards per game after playing Northern Illinois and Kennesaw State.