Dabo Swinney: DJ Uiagalelei is starting to get his swagger back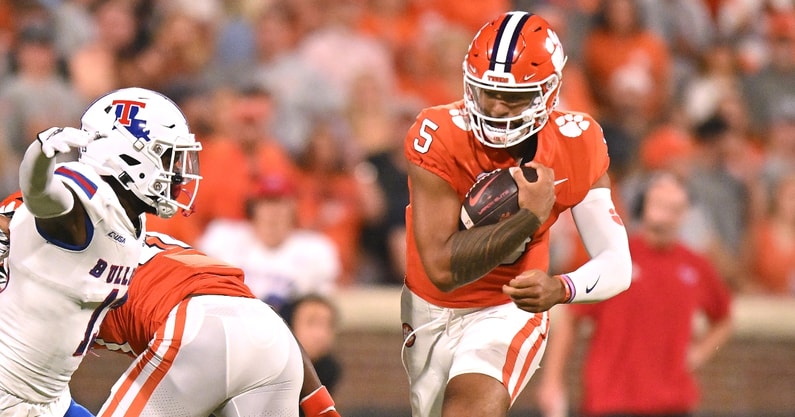 The play of Clemson quarterback D.J. Uiagalelei was a major focus coming into the 2022 season for the Tigers and many wondered if highly touted freshman Cade Klubnik would eventually unseat him. Uiagalelei has stepped up and steadily improved since his rough start in the Georgia Tech game on Sept. 5. Clemson head coach Dabo Swinney recently spoke in-depth about the growth of his 6-foot-4, 250-pound signal-caller and said he's starting to get his swagger back.
"Yeah, I mean, he's gaining confidence man. And I mean, he's starting to get his swagger back and it's really good to see that. He's being smart with the ball and the interception–he shouldn't have thrown it. But, you know, it takes two to tango. And he's been a good decision maker. I mean, what he's done in the run game is really good to see. And that's been different. And again, just continuing to just settle in. I love how he's shown up ready. Again, last two games we've gotten off to good starts. That's really good to see. Really encouraging. He's shown up ready. So, I'm proud of him. I mean, he's again, still got a lot of room to improve, but he has done just that after three games. I mean, he's heading in the right direction," Swinney said.
CLICK HERE to subscribe for FREE to the On3 YouTube channel
The Clemson head coach then talked about how one of the biggest differences between Uiagalelei's performance this year and last year is his ability to make plays with his legs. Swinney discussed in-depth about how much it helps the Tigers' offensive attack to have a dual-threat quarterback.
"Absolutely. Absolutely. Because you know, they gotta defend that…It's an area that we [didn't have last year]. And he was hurt last year. He had a bum knee and all that stuff down the stretch. I mean, I still think about the…I think it was Louisville. Him hobbling in the end zone on that one play. But yeah, I mean…when your quarterback is somebody that has to be accounted for it's like playing with 12….It's a little bit of an equalizer," the Clemson head coach said.
Swinney said he's been doing a variety of things much better
Swinney praised his signal-caller and all the different little things that he's been doing lately to make himself a better quarterback. "He's just really conscientious and he's a very willing runner. And he recognizes that he can be a weapon. He really can. I mean, he's made some great runs but he's making good decisions. His ball handling has been much better. His fakes have been much better. Just his effort in carrying things out has been, you know, really good. He's just been really mindful on all the little things," Swinney said.
This season, Uiagalelei has already punished teams with his legs in the open field, racking up over 100 rushing yards and one touchdown on the ground through three games. He gashed Louisiana Tech for 62 yards on the ground on just nine rushing attempts, averaging 6.9 yards per carry.
"We've missed a few throws but he's processing things the way he needs to. You know, the play he made to Davis Allen down there. That's a great football play. He went through his progression and came back. That was a critical conversion right there. It's just doing a lot of good stuff. He's his biggest critic. He'll see a lot. He's going to feel like, 'Man, it was just off on that or you could have done better here or there.' He's providing excellent leadership," Swinney said.
The Clemson Tigers currently sit at 3-0 on the season and they'll face the Wake Forest Demon Deacons in a highly anticipated ACC clash on Saturday, Sept. 24. Kickoff is slated for noon.