DJ Uiagalelei explains why he has such confidence with Clemson offense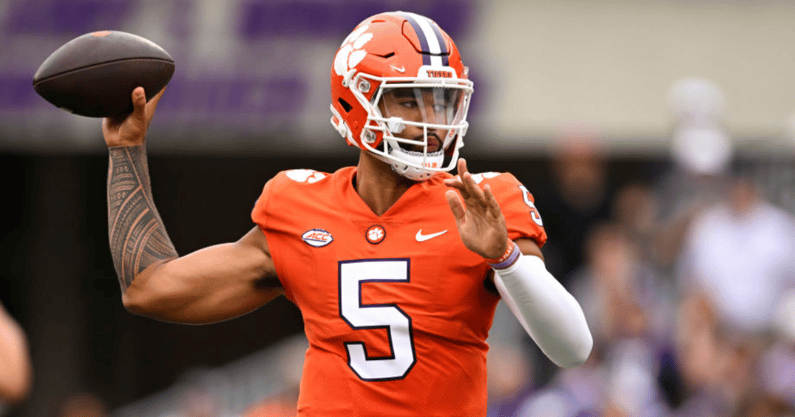 The Clemson offense faced a fair share of criticism last season as the Tigers fell out of the College Football Playoff picture for the first time in several seasons. As the new starting quarterback, DJ Uiagalelei struggled and became the face of the problems for many.
In the offseason, Clemson saw its first coordinator turnover in a long time as Brandon Streeter took over for Tony Elliott. With a fresh start and a new playcaller beside him, Uiagalelei is looking to prove the critics wrong in 2022.
DJ Uiagalelei spoke at his recent press conference about the confidence he and the other players have in the offense this season as results get back on track.
"I feel like we're in a good spot right now," said Uiagalelei. "The offense feels confident. I think we had over 500 yards the past game, and I feel like we left – I know that we all feel like we left a lot out there on the table. I feel like we could've at least had 600. But I think coming into this week, confidence is definitely up. I feel like we want to be able to just continue to keep growing, keep getting better, and just come out each and every day and continue to keep working."
While big numbers against teams viewed as lesser competition can build confidence, the big test for the Clemson offense will come against college football's elite defenses late in the season as the national championship game approaches.
Dave Clawson on DJ Uiagalelei
The version of DJ Uiagalelei with the confidence to nearly beat Notre Dame during a spot start in South Bend two years ago has yet to make a reappearance, but the junior Clemson quarterback has been markedly better from last year. Ahead of an important matchup in the ACC Atlantic race between Clemson and Wake Forest, Demon Deacons head coach Dave Clawson took stock of the Tigers quarterback.
So far this season, Uiagalelei has been a significantly more accurate passer and cut back on the interceptions that plagued him a year ago — sacks, too. Clawson, according to ESPN's David Hale, thinks Uiagalelei's accuracy is borne from an increased level of comfort.
"He's more comfortable and when he's comfortable his accuracy is so much better," Clawson said, according to Hale.
Through three games this season, Uiagalelei has completed nearly 10 percent more of his pass attempts (64.8% this year) — while going for 1.5 more yards per attempt — and thrown five touchdowns to just one interception.