DJ Uiagalelei evaluates running back Will Shipley's backfield workload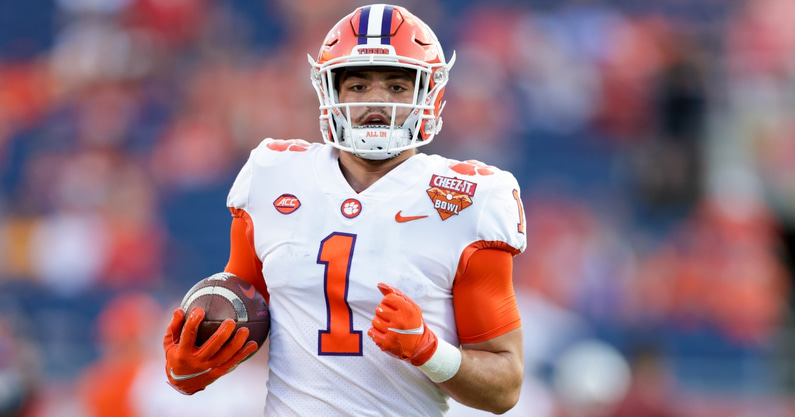 The two biggest names on the Clemson offensive roster are easily DJ Uiagalelei and Will Shipley. Both are crucial to how the Tigers perform on a weekly basis, with the quarterback recently discussing what kind of impact his running back has on a weekly basis.
Uiagalelei was quick to compliment Shipley, talking about all of the quality traits the running back has. He said there's not a touch where the sophomore can't take it to the house for a touchdown. However, Uiagalelei also complimented the other backs on the roster, saying they've all done a good job this season.
CLICK HERE to subscribe for FREE to the On3 YouTube channel
"I think Will Shipley, firstly, is doing an amazing job by running the rock," Uiagalelei said. "He runs it hard. Every time he touches the ball, I feel like he can take it to the house. Along with the other backs as well with Kobe (Pace) and Phil Mafah. I feel like they've also done a really good job in pass protection, good job running the ball, and being able to catch the ball coming out of the backfield."
Clemson is averaging 182 rushing yards per game, good enough for sixth in the ACC. Getting Shipley the ball more often will be crucial as conference play begins.
Uiagalelei feels like it's coming for Shipley
Until last week's win against Louisiana Tech, Shipley had mostly been kept in check in the run game. Against the Bulldogs, he rushed for 139 yards and two touchdowns on just 12 attempts. Now, the hope is to consistently put up those kinds of numbers.
Uiagalelei is confident Shipley will be able to do that, saying it doesn't matter how many carries a game the running back gets. The Clemson starting quarterback trusts Shipley to get his bread whenever his number is called on the play sheet.
"Ship, if he has one carry, he might go 90 yards. I feel like if he has 30, he'll go for 300. It's just a matter of time, depends on how many carries he gets a game. I know Ship, he's a well-rounded running back. He's willing to do whatever is best for the team."
Clemson will open ACC play on the road against Wake Forest but will still be favored. With the Demon Deacons having a high-powered offense, somebody such as Shipley will be counted on to help manage the clock and produce results.