TJ Power signs with Duke Blue Devils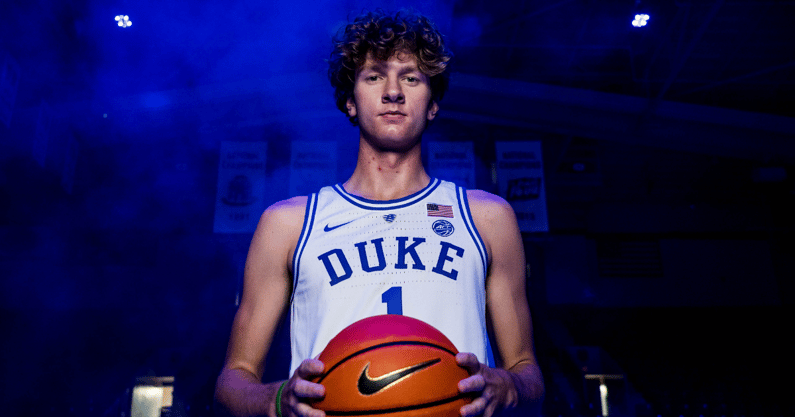 On3 Consensus four-star recruit TJ Power has made it official, signing his National Letter of Intent to Duke on Wednesday.
The 6-foot-8 power forward from Shrewsbury (Mass.) Worcester Academy committed to the Blue Devils back in September, beating out the likes of North Carolina, Virginia, Iowa, and others. 
Power was the Blue Devil's fifth and final addition to their 2023 recruiting class. He joins On3 Consensus five-star's Jared McCain, Caleb Foster, Sean Stewart, and Mackenzie Mgbako.
Power ranks as the No. 23 overall prospect in the 2023 class, according to the On3 Consensus, the average ranking from all four major recruiting media companies. 
Why Power chose Duke
"In the end, I chose Duke because of my educated gut feeling. I understand the opportunity I'll have there and my heart told me it was the one for me. Playing at a school like Duke has always been a dream of mine but I had to make sure I was choosing the school based on my relationship with the coaches and the feeling I had when I was on campus because that's guided me the most throughout this whole process. I see the vision with Coach Scheyer and I'm all in. Not only does Duke have everything I need to bring my game to the next level, it has everything I need to set my life on a course for success off the court."
Scouting Summary
TJ Power has a toughness about him. At 6-foot-8, that is one of the first things you notice in his game. As the game progresses, you see the full skill set. He is an excellent passer, able to initiate off the rebound or line up across multiple areas on the floor and make plays. The footspeed will be a question, but he understands angles and help-defense. We would like to see Power more aggressively look to score at times, but his ability to fill a stat sheet makes everyone on the floor better. Power is also a baseball pitching prospect. – On3's Jamie Shaw