WATCH: Duke basketball celebrates Jon Scheyer's first win as head coach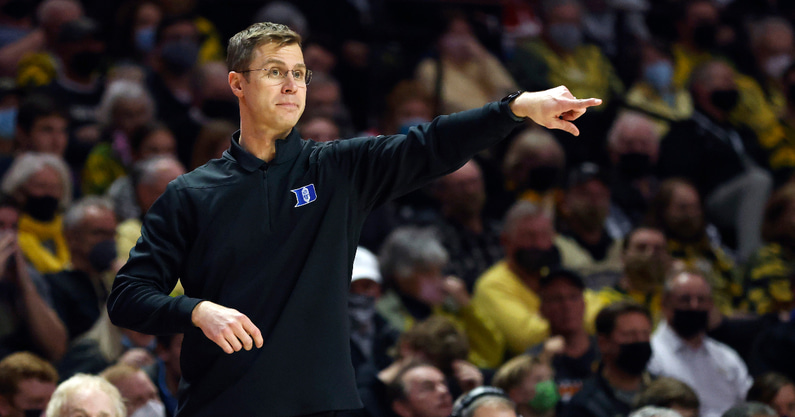 Although Jon Scheyer isn't set to officially become Duke's head men's basketball coach until after the 2021-22 season when legendary coach Mike Krzyzewski retires, the Blue Devils' associate head coach had to step in Wednesday night and lead the team in Coach K's absence.
As Krzyzewski was sidelined due to a non-COVID-19 related illness, Scheyer served as the Blue Devils' head coach in their game against Wake Forest – leading them to a 76-64 win. The victory for No. 8 ranked Duke moved its record to 13-2 overall.
Following Duke's win on Wednesday, the team's official Twitter account posted a video of the Blue Devils celebrating with Scheyer in the locker room. At the same time, they were also thinking about Coach K – using the caption, "Had to get this one for the GOAT."
Duke is set to return to action Saturday against NC State at Cameron Indoor Stadium. Tipoff is scheduled for 2 p.m. ET on ABC.
Duke head coach Mike Krzyzewski out against Wake Forest
Duke Blue Devils head coach Mike Krzyzewski will not coach in Wednesday night's game against Wake Forest, the school announced. He is out with an illness that is not COVID-19 related. Associate head coach Jon Scheyer will take over head coaching duties while Krzyzewski is out.
Duke will be looking to get back on the right track after getting upset by Miami at Cameron Indoor on Saturday. They are currently in the middle of the pack in the ACC standings but have not had the opportunity to play some of their games due to COVID-19 cancelations.
Wake Forest is the Blue Devils' second most played opponent of all time, being less than 30 miles from each other. With the game being on the road for Duke, Krzyzewski will not get to play in Lawrence Joel Veterans Memorial Coliseum for a final time, a place he has had great success.
Duke currently sits at No. 8 n the latest AP poll and has been led by former On3 Consensus five-star forward Paolo Banchero. He is currently averaging 17.3 points and 7.5 rebounds per game.
On3's Griffin McVeigh contributed to this report.