4-star WR Jayden Gibson took his own path to be a Florida Gator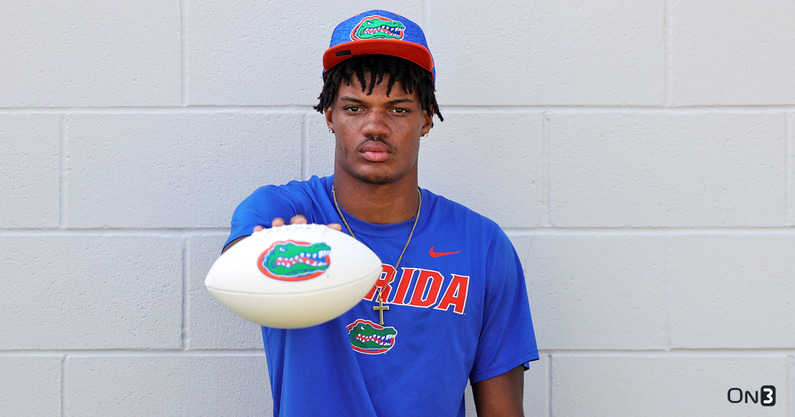 His parents went to Florida, so Jayden Gibson had a connection to the Gators the minute he was born. That did not lead him to commit to the SEC program though.
The 6-foot-5, 185-pound four-star wide receiver out of Winter Garden (Fla.) West Orange took his own path that led him to Gainesville.
"My parents went there, and that is cool, but my decision was not based on that," Gibson said. "There was no pressure to go to Florida – ever.
"Florida was right for my mom at the time. It was right for my dad at the time. Now, Florida is the right school for me. We all had our own paths to get there, and mine was through football recruiting."
Early in the summer, when recruits were able to hit the road again coming out visits being suspended by the NCAA due to COVID-19, Gibson visited Florida first. It was an unofficial visit to the Swamp, but his first official visit was to Miami. That visit had Gibson thinking of committing.
"After that visit to Miami, they were the top school, and I was thinking about them a lot. I had a great time, I liked the coaches, and they were my top school.

"I went on to have great visits to South Carolina, Georgia, Baylor, and some other schools, so I took a step back, and took my time.
"As I thought about it, and kept looking at different schools, Florida started to become the one. Then in early September, I just knew it. I had Florida on top, then I went to the Florida-Alabama game, and that was it.
"That feeling I had told me Florida was the school for me. My parents going there had nothing to do with it. It was right for them, and now, it is right for me.
"I took all the time I needed to find the right school, and I know it is Florida for me.'
Visit to Florida September 18 sealed the deal for Gibson
It was loaded with top recruits, and one in the end zone stands at Ben Hill Griffin Stadium to see Florida host Alabama on September 18th was Gibson.
That game, really, that environment, told him he was home.
"I just loved it. I can't even describe it. It was just a feeling. I knew that was my home.
"When I walked into the stadium that day, I knew that is where I wanted to be. It was a feeling I had never felt before."
Gibson is focused on West Orange, and helping his team as much as he can, but he can't help but think about his future in the Swamp.
He has been there, he has heard the crowd, he has felt the chills, and he can't wait to be part of it.
"I can't wait to play in the Swamp. People will tell me I should be most excited about the college experience, and I know that will be great, but what I look forward to the most is playing in the Swamp.
"It is a great place, it is loud, the fans are amazing, and it is going to be awesome to play there. We will play great competition, so I know it will be rocking, and I can't wait for my chance to play there."
Gibson welcomes the competiton at Florida
A lot of recruits look at the depth chart, and for some, the quickest way onto the field plays a role in their decision.
Gibson did not care about that. He wanted to get better, be pushed, and earn the right to play on the next level.
"I never wanted anything to be given to be, or for things to be easy for me in college," Gibson said. "I am going to Florida, a top program with great players, and I will have to work to get on the field. That is what I want.
"That is what I feel will make me the best I can be. There will be great offensive and defensive guys at Florida that will make me better. They already have numerous top young receivers I will have to compete against, and that is something I welcome. They will help me."
It is not just about the competition. It is the total package the Gators offer. Gibson is not only excited about the atmosphere he will play in or the competition he will have daily, but there is much more.
"I will get everything I need at Florida. I will get coached by Billy Gonzales, one of the best wide receiver coaches in the game, I will play for Dan Mullen, a great offensive mind, I will play in front of great fans, and I will get a great degree.
"Florida has it all. That is why it is the right school for me."