Billy Napier's salary, performance bonuses at Florida revealed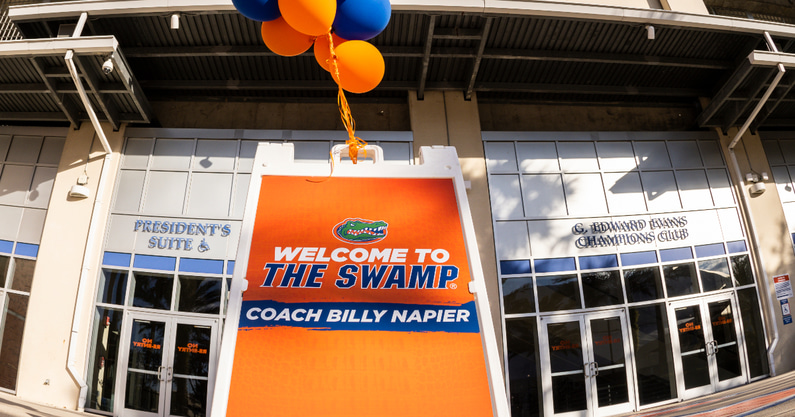 New Florida head football coach Billy Napier signed a seven-year deal with the Gators, worth nearly $52 million in total.
Napier will receive an average salary of roughly $7.4 million; the deal will start with a $7.1 million salary, before increasing by $100,000 each year, which nearly triples the pay that Napier received at Louisiana-Lafayette. Further details of the contract were recently revealed, including Napier's performance bonuses at Florida, which allow him to make up to $1.5 million in additional salary.
Napier's contract with Florida has two bonuses centered around SEC play. First, if he wins the SEC championship game, Napier will receive $125,000. Then, if he also wins the SEC regular season Championship, Napier receives an additional $250,000. If Florida finishes the season in the top 10, then he is subject to an additional $100,000. Postseason bonuses include a $100,000 payout for any bowl game, $250,000 for a New Year's Six bowl game, $500,000 for a College Football Playoff semifinal game, $750,000 for the College Football Playoff Championship game and $1 million for winning the national title. His last bonuses are award-based; if Napier is named the SEC Coach of the Year, he will receive $50,000 from Florida, compared to $100,000 for National Coach of the Year.
Worth noting, however, that for SEC Championship and postseason bowl-game categories, Napier is only entitled to receive pay for the highest applicable achievement.
In addition to his heavy reward-based contract, Florida shared that Napier will have a $7.5 million assistant coach salary pool with the Gators. Napier's staff is still coming together, but a recent report indicated that he would bring two former Louisiana-Lafayette coaches along with him.
Florida hired Billy Napier after one visit
Of the elite jobs that have become available this season, Florida's was one of the few that was short and sweet. In fact, per a report, all it took was one meeting with Napier to shut everything down.
According to Sports Illustrated's Ross Dellenger, once athletic director Scott Stricklin met with Napier face to face, the decision was easy. The two met on Tuesday and he was announced as the next Florida head coach shortly after.
"Just said this on air so might as well put it in print: Florida AD Scott Stricklin met with Billy Napier at his Lafayette home on Tuesday," Dellenger said in a tweet on Sunday night. "And the interview went so well that Stricklin basically ended his search. Once he got in front of Napier, it was over."
After the official announcement, Stricklin explained why Napier was the right guy to take over the Florida program. In a statement, he said the former Louisiana man will bring a "strong, relationship-based culture" to Gainesville.
"I've followed and studied Billy Napier's career with interest, and he became the primary target immediately after this position came open," Stricklin said in a press release. "We felt confident he would be an excellent leader for the Gators, which is why he was the only candidate I met with about the job."
For now, all parties are happy in Gainesville. Napier just has to win.