Florida making Jordan Castell feel like a priority helped the Gators land the 4-star safety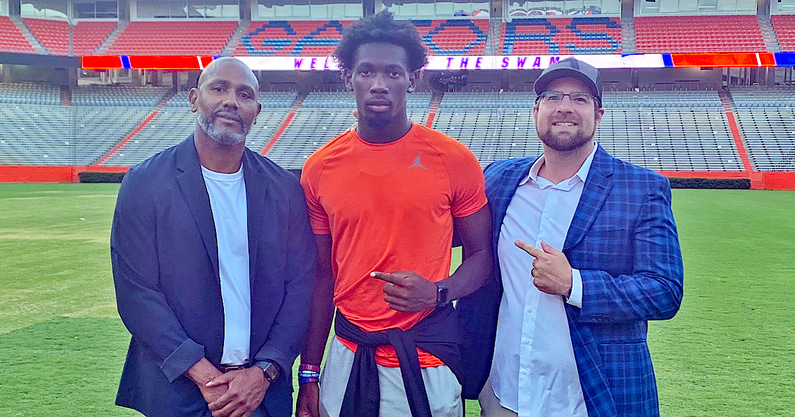 Orlando West Orange four-star safety Jordan Castell was down to Alabama, Florida, and Tennessee. Those were his finalists, but for some time, in reality, there was only one school on his list, and that was Florida.
The school that is only two and a half hours north of his home was consistent. Billy Napier, Patrick Toney, Corey Raymond, and numerous other staff members in Gainesville recruited the No. 130 prospect in the On300, and that paid off in the end.
"Florida has really been a top school for me since a week after the new coaches were hired," Castell told On3. "They took their time offering players because they wanted to get to know them first, but there was an instant connection for me.
"Every day, different coaches were checking in on me, asking about my family, and that stayed strong all the way til now. I knew the coaches were real people, they showed they cared about the players, and that played a big part in me picking Florida."
The environment at Florida fits Castell
In the spring, Castell visited the Swamp a couple of times. The 6-foot-2, 190-pound defender was at a spring practice. Then he was back for the spring game. In June, Castell took his official visits.
Those trips gave him a great look at the coaches and the environment he will eventually be a part of.
"I got a good look at the coaches, the players, the team on my visits and that showed me something. I saw coaches that I could really put my trust in. The energy is high, the players believe in the coaches, and it is a different feeling down there now. The new coaching staff has really changed things up and everyone is positive.
"I really like how they are setting things up, how the program is being run, and the new coaching staff is doing. Coach Napier, coach Toney, coach Raymond, and the new staff really set Florida apart for me. The people, the defense, and the energy all factored in."
Castell believes in the new staff at Florida
Raymond was the lead recruiter for Castell. Toney played a big role too. Numerous coaches off the field were involved. And, of course, Napier was a factor.
All helped land Castell.
"Coach Toney reminds me of my high school coach," Castell said. "We have a great relationship and he is a wizard of a coach. He is very smart about defense, he is going to make Florida's defense great, and I believe in him.
"Coach Raymond did some great things at LSU. He is a great coach, he knows how to coach defensive backs, and I believe in what he can do for me.
"With coach Napier, I looked at his background and he is all about winning. Not only does he win, but he cares about his player. The players like him and how he is always checking on him. Many players have told me great things about him, so I believe in what he does and I think he will get Florida back to the top."
The new staff connected with Castell on a different level
Under the old staff, Castell was a target. He had an offer and there was some communication, but the new staff came in, made him a top target, and Castell feels like he is part of the team already.
"The coaches have made me feel like I was part of the family," Castell said. "I had the offer from Florida with the old staff, but it was different. The connection was not strong, but the new staff came in and changed that.
"They made me a priority, they want to keep the Florida kids home, and they see how important that is to building something. They showed me how I can go in there, play a big role, and be a great fit in with the team and in the defense."
Castell gets to stay close to family, be part of a historic program in his home state, and he is looking forward to representing those around him.
"I don't want to go somewhere and make another school outside my home state better if I can stay home and represent Florida. The new staff has new energy, they are real people, and I get to stay home and be part of a great program."