Florida reaches new low in SEC play after Mizzou loss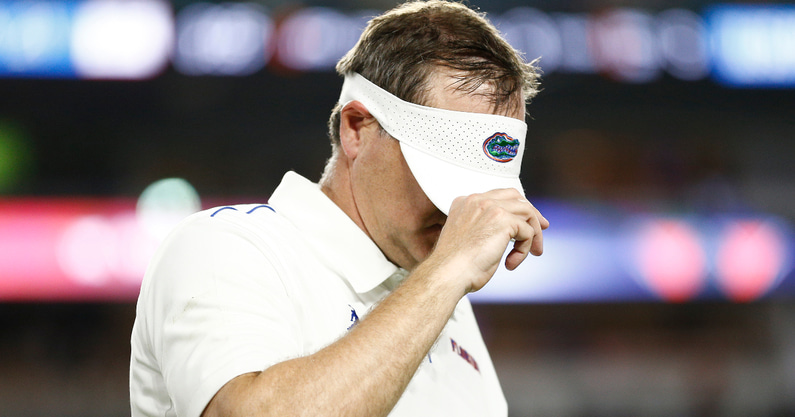 Florida has significantly struggled throughout this season, and those struggles continued for the Gators on Saturday. Playing a mediocre Missouri team in their final SEC game of the year, the Gators allowed the Tigers to hang around from start to finish and ultimately suffered a 24-23 overtime loss for their sixth conference defeat.
Just when people thought things couldn't get any worse for Florida, they have. The Gators' loss to Missouri gives them a final SEC record of 2-6 – their fewest conference wins since 1986. On top of that, the team has just five wins overall, meaning that it'll have to beat Florida State next weekend in order to even qualify for a postseason bowl game.
Following last week's sloppy 70-52 win over FCS program Samford, a game in which it trailed at halftime, Florida again underachieved expectations against Missouri. The Gators didn't score more than seven points in a single quarter and allowed the Tigers to stay right with them, sort of as if Florida wanted it to come down to the wire.
After starting the season 4-2, Florida has since went 1-4 – with the lone win coming against Samford. During this downhill slide, plenty of negative has surrounded the program – from head coach Dan Mullen making a controversial recruiting comment, to the team implementing a media blackout, and Mullen losing multiple recruits.
Despite all the negative that has surrounded the Gators, Mullen has said on multiple occasions that he has the complete support of Florida athletic director Scott Stricklin.
Dan Mullen sends message to Florida fans following disappointing Mizzou loss
During his postgame press conference following the Missouri loss, Florida head coach Dan Mullen said he and his team must find a way to win the games that come down to the wire.
"For the Gator nation, that's seven times we've lost one-score games in a row," Mullen said. "So, I mean over the last couple of years we've got to find a way to make that one more play for the Gator nation right there. That'd be a seven-game swing, which would be … pretty big swing right there, you know, over the last couple of years."