WATCH: Florida locker room goes crazy after close win over FCS Samford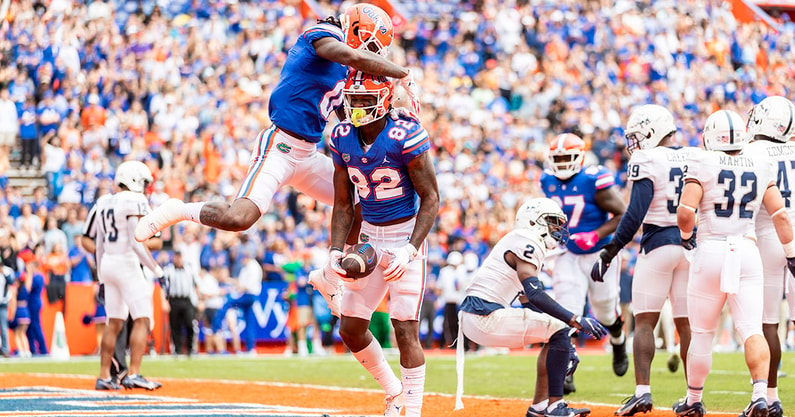 It wasn't easy, but Florida held off FCS opponent Samford on Saturday. After the game, Gators locker room found reason to celebrate.
Samford led 42-35 at halftime, scoring more points in one half than Alabama, Kentucky or Tennessee did in four quarters this year against Florida. But the second half was a different story as the Gators came away with the 70-52 victory.
That's when the celebrations started.
Florida was a 31-point favorite entering the game, and the halftime deficit understandably caused some concern from Gators fans. In fact, Samford's 52 points were the most an FCS team has ever scored against an SEC team.
The Bulldogs had 530 total yards of offense on the day, including 400 from quarterback Liam Welch. Welch completed 33 of 52 passes and threw for three touchdowns as part of an electric offensive display from Samford.
But Florida had an even better offensive performance, totaling 717 yards. Quarterback Emory Jones went 28 for 34 for 464 yards and six touchdowns in the air while rushing for 86 yards and a touchdown. That amounts to 550 total yards — a new Florida record. He's a big reason why the Gators were able to come back.
Struggling against an FCS team isn't a good sign, though, and that first half wasn't Florida's best football by any means. But after the game, Gators coach Dan Mullen had an interesting quote to talk about how he felt.
"Calling a win disappointing is disrespectful to the game," Mullen told reporters.
The performance comes one week after Florida fired defensive coordinator Todd Grantham. At halftime, Mullen discussed the Gators' first-half defense and didn't hold back.
"Honestly, at this point, the defensive guys — someone's got to make plays," Mullen said. "I mean, we've got guys that run a corner, guys unblocked and the cornerback doesn't tackle them. Missed tackles. We missed coverage checks to leave guys wide open. I mean, it's — our day one install stuff."
Bruce Feldman: Florida's Dan Mullen is in real jeopardy
Entering Saturday on a three-game losing streak, Mullen was under heavy criticism for everything from on-field coaching decisions to player management and recruiting, putting his job in jeopardy. He fired two long-time assistants this week – Grantham and offensive line coach John Hevesy – in a desperate move to regain momentum.
However, the pressure is still on in Gainesville, as FOX Sports analayst Bruce Feldman discussed on Saturday's FOX Big Noon Kickoff show.
"Going forward, Dan Mullen is in real jeopardy there," Feldman said. "He cannot afford any more losses if he has any hopes of coming back next year."