Mike Norvell assesses play of backup QBs Tate Rodemaker, AJ Duffy in 2nd scrimmage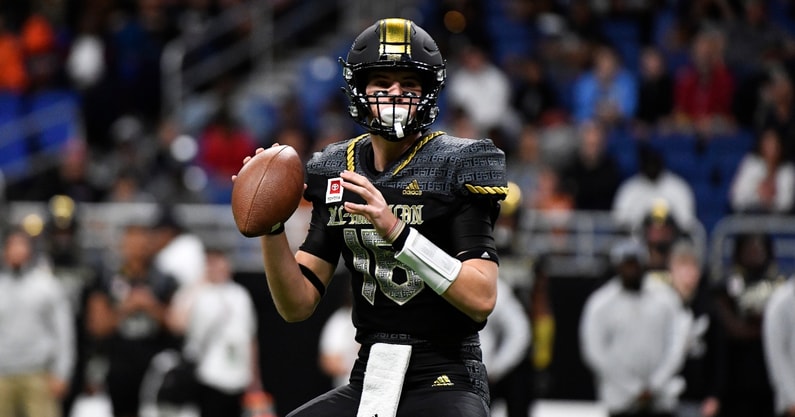 Florida State head coach Mike Norvell doesn't have to worry about choosing a starting quarterback. Jordan Travis is the guy in Tallahassee. What's more important is making sure that Travis is developing to be all he can be as the starter. At the same time, it's important that Florida State has a good backup quarterback, in case anything happens to Travis.
Mike Norvell broke down the play of two of the Florida State backups, Tate Rodemaker and AJ Duffy, following the team's second scrimmage.
"I thought they both made good checks," Mike Norvell said. "Pushed the ball down the field well. They didn't seem uncomfortable."
"Especially young quarterbacks, when they're able to take control of it and open–making different calls, different things that they're seeing, while still being able to play really fast within the system–I'll probably have more details–but there really wasn't anything with either or any of the quarterbacks to come out of tonight, oh man, there was no glaring issue that they weren't putting us in a good position," Mike Norvell said.
Mike Norvell also emphasized that there was still more work and evaluations to do, but that he was happy with a good day during the scrimmage.
Tate Rodemaker was a three-star quarterback from the Class of 2019. Now a redshirt sophomore, Rodemaker has played briefly in five games during his career. Meanwhile, AJ Duffy is a true freshman quarterback, who was a four-star recruit in the Class of 2022.
Mike Norvell on his team's identity
Following the scrimmage, Mike Norvell was asked about his team's identity. His response was simple, "They love to compete."
"I think it's a team that's tough, I think they're building their mental toughness. The physical toughness is something that's shown up. They're passionate. You're seeing that yesterday in a day that didn't start the way it needed to. You see the energy, the excitement, the competitiveness and that showed up again tonight."