Mike Norvell explains importance of getting Fabien Lovett back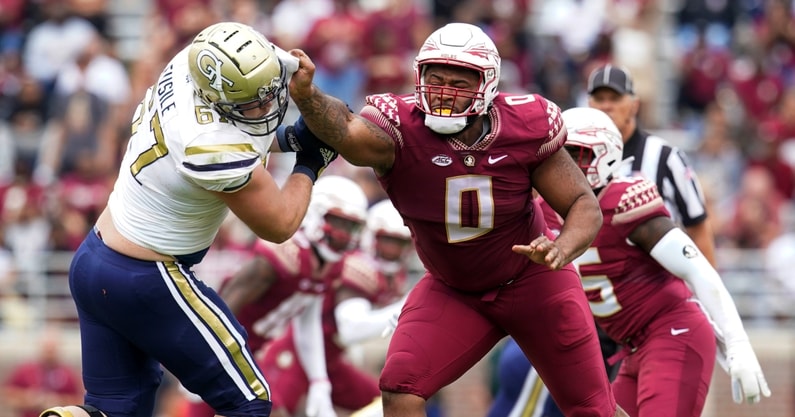 Florida State lost defensive tackle Fabien Lovett to an injury in the Seminoles' opener against LSU. After missing seven games, Lovett was able to return against Georgia Tech, helping to give Mike Norvell and the Seminoles a spark on defense.
While speaking to the media, Mike Norvell explained the importance of having Fabien Lovett back on defense.
"You got a big, strong, explosive, and powerful human being that you just added into the middle of the defense," Mike Norvell said.
CLICK HERE to subscribe for FREE to the On3 YouTube channel
"And, you know, you see his presence. You feel his presence. You know, I thought he was great for just the things he did on the field. He plays with a great energy and passion, and it's fun watching just how guys, you know, kind of feed off of him and what he does. But, he definitely is a force inside."
Fabien Lovett was a three-star recruit in the Class of 2018. He originally went to Mississippi State before transferring to Florida State. In 2021, Lovett was an honorable mention All-ACC selection.
Florida State's next game is against Miami. A win would secure bowl eligibility for the Seminoles for the first time since 2019.
Mike Norvell gave an update on Lovett's health
Following Florida State's win over Georgia Tech, Mike Norvell gave an update on Fabien Lovett's health after his return to action.
"Fabian came out really well. To be honest, there in the game, his other foot's big toe got stepped on. So he wasn't real comfortable, but it wasn't anything to do with his other injury that he was coming off of," Mike Norvell said.
"It's good. I saw him yesterday when he was walking all gingerly on the other toe, but we kind of just smiled and were like, 'All right, let's go get it.' But he's gonna be great going into this week."