Mike Norvell provides injury update on Fabien Lovett for Week 9 matchup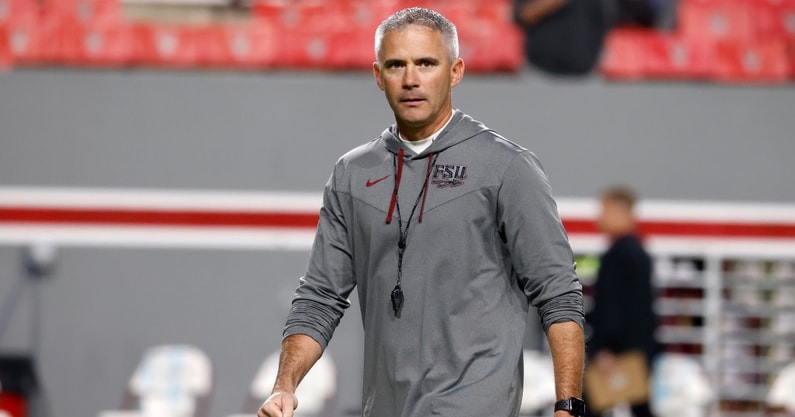 Seminoles head coach Mike Norvell shared that Fabien Lovett will be a game-time decision on Saturday when Florida State hosts Georgia Tech.
It has now been seven weeks since the Florida State football team lost the star defensive tackle to a lower-leg injury late in the LSU game. Lovett returned to limited action on the practice fields a little more than a week ago.
"Fabien is looking really good. He got out, got even more work today," Norvell said on Wednesday. "It will be a game-time call. I'm just not going to put him in a position if he's not ready to go play. He's been getting more work, we'll see how he responds after a higher workload today, and go from there."
CLICK HERE to subscribe for FREE to the On3 YouTube channel
The 6-foot-4, 318-pound redshirt junior earned Honorable Mention All-ACC honors last season after recording 28 tackles with two sacks and 4.5 tackles for loss. He also has been a team captain each of these past two seasons.
Lovett, a Vicksburg, Mississippi native, has just two tackles on his resume so far this season. Both came in the LSU game prior to his injury.
Lovett playing integral role off the field
Defensive coordinator Adam Fuller described what the Seminoles will get back once Lovett returns to the field.
"He gives you just a really tough matchup on the inside," defensive coordinator Adam Fuller said. "It's hard to block him with one guy just because he's so strong. He's strong, but he's been in the system now for three years and he plays with the technique necessary to be productive. He's a team-first player that's unselfish. He battles, he fights, and he uses good technique… When he gets back, it will be good to have him back."
Lovett's coaches have praised his ability to remain as dedicated as ever to the team and his teammates as he's worked his way back to the field.
"I'm sure it was hard for him, because I know how badly he wants to be out there," defensive ends coach John Papuchis said. "His attitude — really the week he got hurt against LSU — his attitude and his energy level that he brought to team meetings, to the defensive line meetings, never changed. His demeanor never changed. He never made it about him. He never kind of pouted and sulked. Maybe that happened in private, but in front of the group, he always showed a strong leadership face to the group."