Kirby Smart on when he realized Brock Bowers would be a big contributor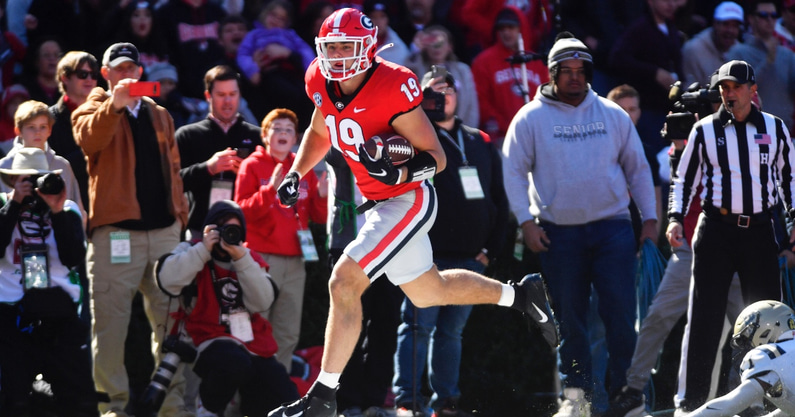 Tight end Brock Bowers has burst onto the scene for Georgia this year as a freshman. Bulldogs coach Kirby Smart was asked when he knew the former four-star recruit would be a major contributor.
Bowers came to Georgia as the top tight end recruit from the Class of 2021, according to the On3 Consensus, a complete and equally weighted industry-generated average that utilizes all four major recruiting media companies. He leads the Bulldogs and ranks 12th in the SEC with 54.3 yards per game. Not bad for a freshman.
On the SEC Championship teleconference this week, Smart said Bowers made an impression early on, and he's handled everything well.
"You never really know what you have in a player until the pads come on," Smart said. "Somebody's got to go hit somebody, and you know they're not shying away from it. Once he got into contact, he's got really good toughness. He's got great lower body strength. He's got great pass-catching radius and good speed. These things combine to make for a good tight end.
"The fact that he's been so composed has surprised me the most. There's not been a moment too big for him. It doesn't matter to him whether he's playing in the backyard or playing our defense against the scout team or he's playing Clemson in the opening game, for him he wants to do it the right way. It's important to him to do it the right way."
Bowers is expected to remain a big part of the Georgia offense as the Bulldogs get ready to take on Alabama Saturday at 4 p.m. ET in the SEC Championship.
Kirby Smart talks about 'rare' ability of Brock Bowers as a freshman
During the same teleconference, a reporter asked Smart about Bowers' evolution and whether or not he had ever coached a player that is comparable to the superstar freshman.
"There's been special freshmen that you go against, and now that you're asking that question, nothing really pops out. There's been really talented wideouts to me, and there's been really talented like backs because I feel like, to play running back and receiver in our conference, it's the one place that an elite, really good prospect can walk in and impact a game. It's less getting overpowered out there," Smart said.
The freshman standout's skills are sure to be on full display on Saturday's big stage during the SEC Championship in Atlanta.