Quay Walker addresses three-year journey after choosing Georgia over Alabama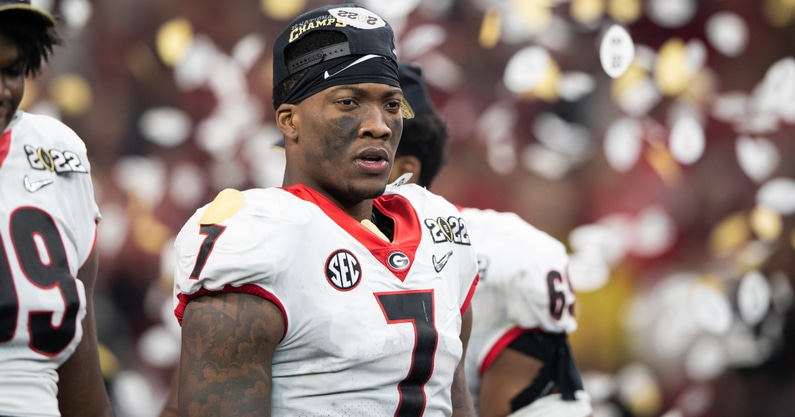 Once upon a time, former Georgia star and the newest addition to the Green Bay Packers linebacker room Quay Walker was committed to Alabama. Though he ultimately made the decision to de-commit from the program before stepping on campus, instead electing to spend his collegiate career in Athens as a Bulldog.
While Walker's Georgia career ended with him leading his defensive unit with seven solo tackles in their National Championship win over the Crimson Tide back in January. While he was thriving by the time he helped bring the Bulldogs their first title in four decades, it wasn't always sunshine and rainbows for the former five-star recruit.
"In my last few years, I had been kind of held back. It real, real frustrating for me at first," Walker said. "I wasn't seeing the field at first because we had so many good, good guys. To be honest, I just wasn't good enough at the time.
"It's kind of hard and stuff being so young, but I just worked every day, got better, but the biggest thing for me in my transition throughout my three to four years was that I started eating right. I got right with my nutritionist … my whole body has just changed."
Walker said his body fat percentage is down to between eight and nine percent, which isn't the easiest thing to do at 6-foot-4 and 235 pounds and it helped him compile a career-best 63 total tackles, 1.5 sacks and two pass deflections.
As a freshman, Walker was given the special teams newcomer of the year award as a freshman after appearing in all 14 games for the Bulldogs. While most see being stuffed away on special teams as a downgrade, Walker made the most out of the situations, despite being one of the nation's top recruits. Walker now sees the situation as a necessary stepping stone in his development while in Athens.
"You had to buy in at Georgia playing special teams," Walker said. "So, that was something that I bought in real, real fast. I started all four [special teams] my freshman year. Sophomore year I was on three of them … So that pretty much led up all the way until my senior year. My senior year, I started playing more."
Walker opted to spend his free time in the weight room and with his position coaches and taking reps at practice more seriously. His peers and coaches took notice and trusted him enough to have him right in the middle of what was widely regarded as the best defense in college football season, something the Packers will expect early and often from the rookie linebacker.