'It felt like home:' 4-star athlete Demello Jones commits to Georgia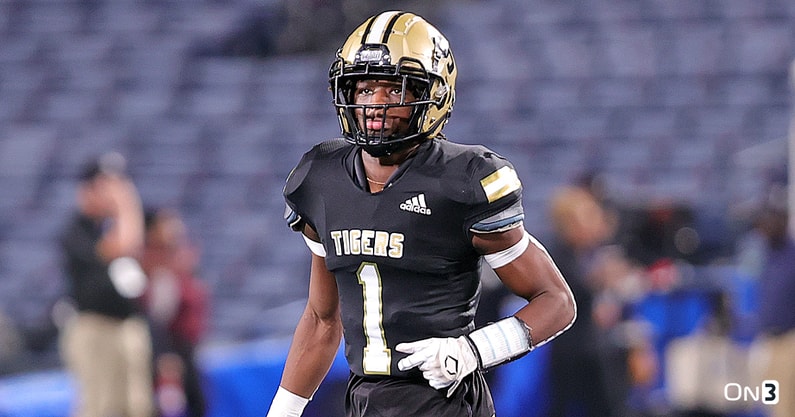 After naming his top 10 schools at the back end of February, it didn't take Demello Jones long to commit to one of those. Georgia made the No. 156 prospect in the On3 Industry Rankings feel like a priority from the time they offered late in the fall and it paid off.
After taking another visit to Athens on Thursday, the 6-foot-1, 176-pound four-star athlete out of Swainsboro (Ga.) has committed to the Bulldogs.
"I was fortunate enough to be recruited by the best universities and the best staffs in the country and for that I'm grateful," Jones told On3. "But when talking to Coach Fran Brown and the staff at the University of Georgia, I didn't feel like I was being recruited. I felt like I was already in his cornerbacks room and already a member of the team, so it felt like home."
Jones also likes the fact that his family will only have to travel a short way to watch him play over the next few years.
"I'm also big on my family being able to watch me play, and the fact that they can make a day trip seven to eight times a year to watch me was huge," he added. "My mom is my everything and the fact that she'll be able to come to see me most of the season played a huge role in my decision.
… The last thing is the education is second to none in the country. I'm going to be able to receive a top-notch degree all while competing for and winning National Championships on a yearly basis."
Jones has a great relationship with Fran Brown
Brown does everything for Swainsboro. Not only does he play all over the field on both sides of the ball in football, but he is part of a state championship track team and top basketball team.
At Georgia, they want him to play cornerback. He and defensive backs coach Brown have developed a strong bond.
"Me and coach Fran are talking every day," Jones said. "As soon as Georgia offered, we have been in contact, but now it is every day. After they beat TCU, coach Fran has been coming really hard.
"We talk about everything. He jokes around a lot. He is a chill guy and we have a great relationship. We have really gotten to know each other."
When Jones was in Athens for a visit earlier this month, the two talked about position details. They got into more specifics and Jones can't wait to line up and play for coach Brown.
"He is a great coach. He is cool to talk to, but he really knows how to push his players. Georgia has a great defense and I know coach Brown will help me a lot."
Georgia showed Jones a lot of love
During basketball season, Georgia sent numerous coaches to see Jones play. Head coach Kirby Smart, Will Muschamp, Glenn Schumann and coach Brown were all there. The love he felt from the in-state program helped pushed them past Alabama others to land this commitment.
"Georgia has been showing a lot of love. The coaches have really gotten to know me and made me feel like a top priority. They wanted me to stay home. Georgia has a great culture with great coaches and I like really like the environment there."
Jones is Georgia's 10th commitment this cycle and the Bulldogs sit No. 1 in the On3 Industry Team Recruiting Rankings.