4-star DL Jordan Hall commits to Georgia: 'I feel like they're the new dynasty'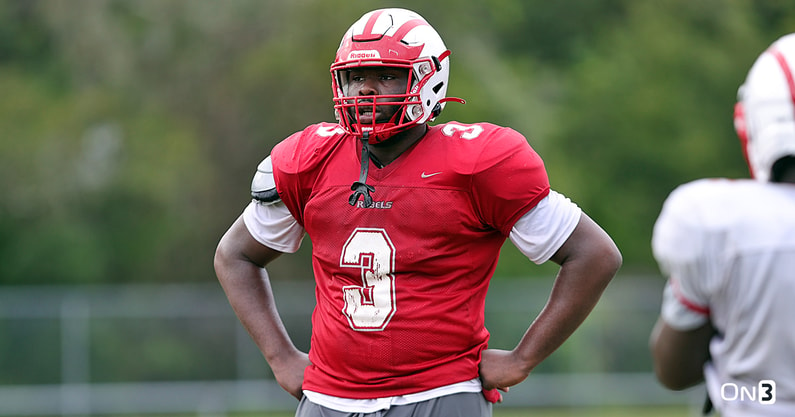 During his sophomore year, Jacksonville (Fla.) Westside four-star defensive lineman Jordan Hall received an offer from Georgia. Hall traveled to Athens for a camp over the summer, where he caught the eye of Bulldogs defensive line coach Tray Scott.
Throughout his recruitment, Georgia made a strong impression on Hall, who took multiple official visits before finalizing his decision. While Florida was "neck-and-neck" with the Bulldogs, Georgia won out, with Hall announcing his commitment to the program on Thursday.
"Everybody goes to the Georgia's, Alabama's and Florida's for one reason," Hall told On3. "That's to follow their childhood dream. They'll work towards the NFL. They'll get their degree, but play football at the same time. I feel like Georgia, it maximizes all of those to a higher degree. (Head) coach (Kirby) Smart is doing a great job with coaching the guys up and making sure everything was straight, so I really respect coach Smart for that."
Since October, Hall has made two visits to Georgia. His latest trip was an official on the weekend of Dec. 10.
The 6-foot-3.5, 310-pound recruit feels at home in Athens. Hall believes he "can be more of myself" at Georgia and identifies with the Bulldogs' players and culture of hard work.
"The go-to-work mentality really fit me," said Hall, the No. 29 overall prospect and No. 4 defensive lineman in the 2023 On3 Consensus. "They keep everything really punctual for their players. Everything is work, earn what you get and keep working. It's like a hierarchy of work, honestly, at Georgia and there's a balance with it. It's not too much football, but not too little football… honestly, Georgia I feel like is the perfect balance for me."
Hall believes in Georgia's coaching staff and future
Hall, who was sought after by some of the top programs in college football, is grateful that Georgia offered him. He feels a sense of pride having the opportunity to play for Scott and Smart.
"I felt like I had a lot of stuff to prove just because the school I was at, Westside, was not too good of a (football) school," Hall said. "Coming from where I come from, I wanted to prove myself and coach Scott took a chance on me. I respect him and coach Smart for that, for taking a chance on me and giving me the opportunity. I feel like more than any other coach, those guys will develop me the best. Coach Scott's really got the recipe when it comes to d-lineman, as of right now. He's gonna have another first-rounder coming this year, next year, another one, and the year after that, another one."
Scott was a key factor in Hall's decision. The four-star called him like a "big brother."
Hall feels like he can speak with Scott about anything. That trust is one of the reasons he is excited to learn from his future position coach.
"He's an energetic dude," Hall said. "He may not be the most loud guy, but he brings energy in ways that you wouldn't even expect. He's just a cool person to be around. I like the way he coaches and how he cares. He comes into the building every day ready to work."
This December, Georgia is participating in the College Football Playoff for the second consecutive year. They have a chance to repeat as national champions. Hall looks forward to continuing that winning standard when he arrives in Athens.
"Georgia's on the come-up," Hall said. "I feel like they're the new dynasty. They're the new Bama, honestly."