Kirby Smart describes biggest concerns he's dealt with coming off Georgia's national championship season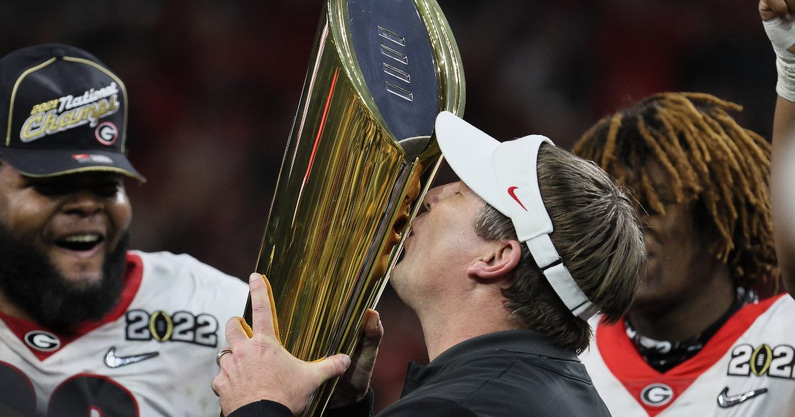 Kirby Smart will never forget the magical run that resulted in a national championship victory for the Georgia Bulldogs, but the UGA coach fully understands 2022 is a brand new season with new personnel that has yet to establish an identity.
The Bulldogs' head man recently fielded questions while appearing at the Peach Bowl Challenge golf tournament and was asked about his biggest concerns heading into the new season coming off the College Football Playoff win.
"Probably the biggest difference coming off of a national championship is you worry about complacency, you worry about guys thinking they've arrived" Smart said.
CLICK HERE to get 30% OFF your Georgia Bulldogs National Championship apparel

Kirby Smart then made a point to compliment his team this offseason, while noting the schedule and timing differences that made this spring particularly unique.
"I didn't think our guys did that," the UGA front man said of his team's mindset and avoiding complacency.
"We got a shorter window, we had a little less time to prepare, we had one less week to lift before our spring practice. But we played an extra game in the season with the playoff game, so injuries played a factor in that. We probably had more guys out this spring than we ever have before."
The Georgia coach then identified the biggest factor in coming off last year's incredible season.

"But the biggest thing is not worrying about that," Kirby Smart added.
"We start over, we aren't defending the national championship, it's a new team and we will develop new chemistry to see what this team is going to be about."
Kirby Smart discusses opening against Oregon
There are less than four months remaining until the start of the 2022 college football season, and there are some intriguing matchups on the schedule for Week 1. One of those matchups is between Georgia, the defending national champions, and Oregon. 
Adding to the intrigue of that matchup in itself, there will be two familiar faces opposing each other on the sidelines. Kirby Smart will lead Georgia, while Oregon's new head coach is Dan Lanning, who left the Bulldogs for the Ducks in the offseason. Lanning had been at Georgia since 2018, and now he gets his first head coaching opportunity.
Recently, Smart addressed his initial thoughts on the season opening matchup between Georgia and Oregon, and he also touched on the fact that he's going up against Lanning to kick off the season.
"We looked at them in the spring and kind of studied those guys," Kirby Smart said. "It makes it awkward, you know the new head coach, you can take the film and things. You're really looking more at who the players are than anything. Very familiar with Dan Lanning, very familiar with a lot of guys on the staff. His offensive coordinator was at Auburn and also at FSU, so we looked at those guys. But got a lot of respect for Dan and what he did for our program, and know he'll do a really good job there at Oregon."