Reports: Kirby Smart, Georgia have begun discussions on a 'long-term' extension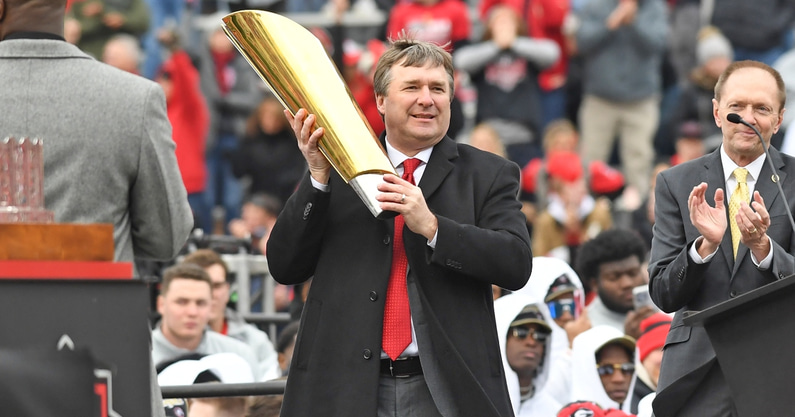 Kirby Smart has been the perfect fit at Georgia, and he's about to be rewarded for his efforts.
The program has undergone a transformation under the former Alabama defensive coordinator. Coming off the end of a lengthy championship drought, Georgia president Jere Morehead revealed the two sides are engaged in long-term extension talks, according to Seth Emerson of The Athletic.
"Kirby Smart and UGA are engaged in 'long-term' contract extension discussions, UGA president Jere Morehead tells the athletic board," tweeted Emerson. "Details of a long-term extension will be finalized "in the coming weeks," per Morehead. Terms not announced yet."
Continuing, Morehead stated that the new deal will be up to par with some of the top coaches in college football.
"Kirby Smart's new contract will be 'commensurate with a national championship-winning coach,' says UGA president Jere Morehead," Emerson added.
As you can see, Kirby Smart is about to be a very happy, very rich man. He's earned every dollar coming his way, building Georgia back from the doldrums into a bonafide championship program.
Kirby Smart on Georgia's success: We're not a one-hit wonder
Moreover, during a recent interview with the Georgia head coach, ESPN analyst Paul Finebaum asked Smart about the staying power of his program. Georgia and Smart are fresh off of a national championship and enter next season as the top dogs in college football. But how likely is their reign to last longer than one season?
Well, according to Smart, don't expect Georgia to be a one-hit-wonder.
"A lot of that will go into the Oregon game. A lot will go into how we play next year," said Smart, about the push in expectation the Bulldogs will face. "But we're a program that is built to sustain. We weren't built on one hit wonders. We weren't built from one guy one player. Our program is not gonna be make or break by one player.
"So, we think we've got really good infrastructure. We got a great thing to sell and great education, playing a great conference. I mean look at our state. We had 30 players drafted from our state, which is incredible from the state of Georgia for the number of people in it. So there's a great product being put out there by our high schools and we get the blessing of that being the State University."
The Bulldogs enjoyed a historical draft on many different levels, as Georgia notched a new NFL draft record with 15 players being selected. After the Atlanta Falcons selected tight end, John Fitzpatrick in the sixth round, the Bulldogs became the first school to have a tight end taking in four straight drafts. However, arguably Smart's most crowning achievement from the 2022 NFL Draft is when Georgia set the record for the most defensive players selected in the first round, with five taken.
Now, Kirby Smart — and the Georgia Bulldogs — won't be going anywhere anytime soon.