Kirby Smart reveals what philosophy will be at Georgia moving forward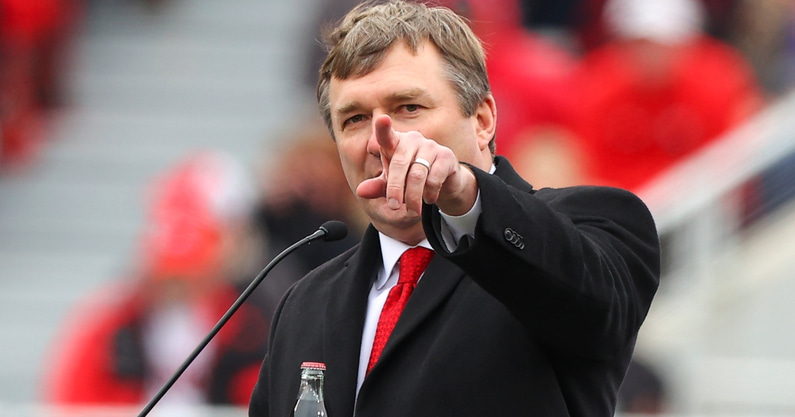 The Georgia Bulldogs had the best defense in college football last season, and that showed when five defensive players from the team were selected in the first round of the 2022 NFL Draft. That set a new draft record, and truly illustrated just how talented the unit was last season. Now, Georgia head coach Kirby Smart is looking for continued success moving forward.
In 2021, Georgia's defense allowed just 9.5 points per game. The next closest competitor in the SEC allowed 15.9. The Bulldogs were good enough offensively, scoring 38.6 points per game and averaging 442.8 yards offensively, both of which were top five totals in the conference.
CLICK HERE to get 30% OFF your Georgia Bulldogs National Championship apparel
Having so much NFL talent on one defensive unit is something that Smarts understands is unlikely to happen very often, so he is prioritizing being able to score on offense with skilled players across the board for Georgia.
"I think it's who we were that year," Smart said. "We'll be a different team this year. We don't have five first-round defensive players coming back. It's not going to be the case. I don't think it's going to be replicated very often. I'd still think that it's an era of throwing the ball and an era of scoring points. We're going to have to do a better job of that and continue to do it. We want to play defense better than everybody else. What that number looks like, I don't know.
"We just want to be No. 1 in the country, we want to be good at it. But we want to score points, and do to that you need to have skilled players that can make plays and I think we're in a good position to do that."
Smart called Georgia's NFL Draft success an 'informercial' for the Bulldogs
Moving forward, Smart knows that he still has work to do to sustain Georgia's level of success from last season. Georgia enters next season as the reigning national champions, and the Bulldogs will want to defend that title with another strong campaign in 2022. The draft success was an impressive to feat, but now Smart is focused on doing that again in future years.
"Yeah it's pretty impressive. It was a credit to the entire organization — our university, strength staff, and nutrition staff, the player development staff," said Smart. "So many people had a role in those kids lives. To have that good of a group at one time was really unique. I'm excited for the next group we've got coming up. But the draft was really special. It was an infomercial for our program and what they've been able to do."
Georgia comes in at No. 3 in ESPN's latest way-too-early Top 25 rankings ahead of the 2022 season. The Bulldogs open the season on the road on September 3 against Oregon.