LOOK: Stetson Bennett serves Georgia fans in drive-thru after winning title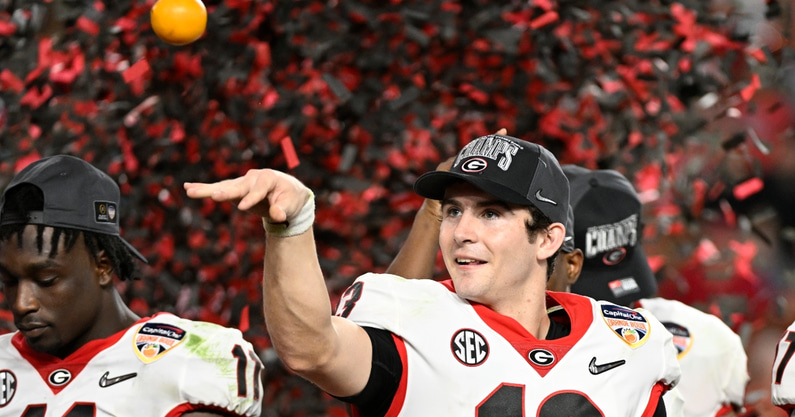 Georgia quarterback Stetson Bennett went from Bulldogs walk-on to program legend on Monday night. Then, on Thursday, he went from National Championship quarterback to Raising Cane's drive-thru operator.
Bennett worked the local Athen's Raising Cane's restaurant, much to the surprise of the Georgia fans who went through the service lane.
"Stetson Bennett has been delivering more than touchdowns this week," the release said. "Similar to Bennett on Monday, fans were crying tears of joy as they were handed chicken fingers from the very hands that threw for 224 yards and two touchdowns."
The Georgia senior quarterback hasn't reported an NIL deal with Raising Cane's but it sure seems like that's where the success is headed for Bennett. He does already have an NIL deal with Great Clips. He posted an ad for the hair-cutting company on the eve of the National Championship.
On Monday night, his status as one of Georgia's all-time greats was cemented with a 33-18 victory over the Crimson Tide. He helped win the Bulldogs a national championship for the first time in 41 years. In the game's final moments, the ESPN broadcast cut to Bennett on the sidelines. He had broken down in tears as the clock was winding down.
Bennett finished the game with 17 completions in 26 attempts, good for 224 passing yards and two touchdowns. Bennett did cough up a costly fumble early in the game. However, he said in the postgame press conference that he wasn't going to let his turnover be the reason that the Bulldogs lost.
Bennett sees big boost in NIL valuation
On Monday night, Stetson Bennett took the field as Georgia's starting quarterback, leading the Bulldogs to a national championship victory. The win meant a lot to Bennett, and it also resulted in a significant rise in his NIL valuation.
On3 compiles NIL valuations for athletes around the country using a number of tools. The overall goal is to quantify an athlete's true value using a number of factors. The factors include social media presence and on-the-field play.
Georgia's national championship has helped Bennett's On3 NIL valuation significantly rise, jumping from $89,000 to $360,000. That is a significant jump and places Bennett inside the top 25 of the On3 NIL 100.
Bennett made an appearance on Good Morning America on Tuesday after he led the Bulldogs to a title. The former walk-on turned national championship-winning quarterback had a clear message in the appearance. He said that he had to bet on himself. Bennett's decision to do so has paid off not only for him but also for everyone involved with the Georgia football program.