Report: Impressive list of teams contact Illinois transfer Andre Curbelo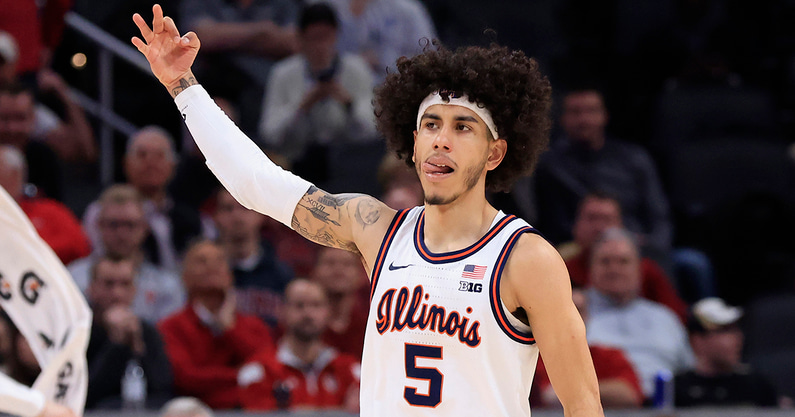 It's been two days since Illinois guard Andre Curbelo entered the transfer portal. He's already garnering plenty of interest.
Eight teams have contacted Curbelo since he entered the portal, according to Stadium's Jeff Goodman: Gonzaga, St. John's, Georgia Tech, Pittsburgh, Kansas State, St. Mary's, Clemson and Texas A&M. They've all gotten an early start on the former Fighting Illini star who's shown flashes over two years in Champaign.
That's an impressive list of teams for Curbelo, who'll have two years of eligibility remaining. He played 19 games in 2021-22 as he battled through multiple injuries, including a concussion. In those games, though, he averaged 7.5 points and 3.2 assists per game for Illinois.
Notably, Curbelo didn't play in the second half of Illinois' Round of 32 game against Houston. Afterward, Fighting Illini coach Brad Underwood had two words to explain his reasoning for the decision.
"Coach's decision," Underwood told reporters.
More on Andre Curbelo entering the transfer portal
Former four-star recruit and star point guard Andre Curbelo has entered the transfer portal, he announced via Twitter on Monday afternoon. Spending the past two seasons with the Fighting Illini, Curbelo only started in four games throughout his career and will now be looking for a new home.
"Illini Nation… Where do I begin? These past two years have been insane. So many amazing moments and some hard times that we had to battle through. I am so thankful I could be part of this program. Without my teammates and staff, I wouldn't have been able to accomplish the all of that things that I did personally and that WE did collectively. I'm thankful I was part of two amazing teams here at the University of Illinois and for the relationships I have made. I'm thankful for all the support from The Orange Krush, you were my energy and the reason I never stopped pushing. Unfortunately, my time here at the UIUC has come to an end and I have decided to enter the transfer portal. Belo OUT."
Curbelo only played in 19 games this season for the Fighting Illini. Coming out of high school, the On3 Consensus ranked Curbelo as the No. 36 overall prospect of the 2020 class. He was the top player from the state of New York and stacked up as the No. 9 point guard in the country.