Jacob Toppin calls NCAA Tournament win a 'big relief'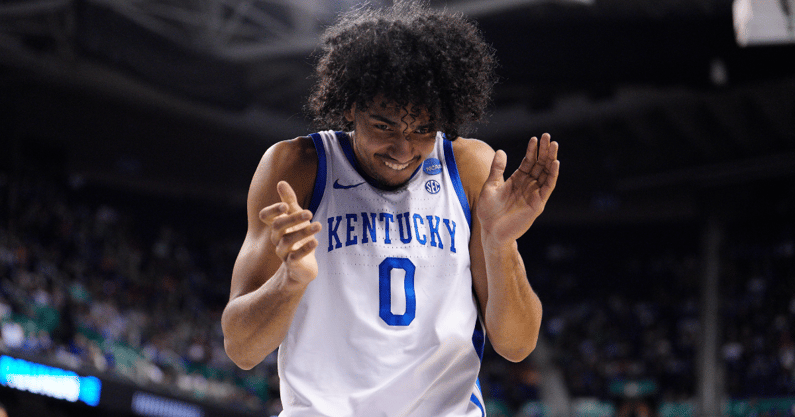 Kentucky nearly went 1,500 days without an NCAA Tournament victory. The 'Cats hadn't walked off the court in March Madness as winners since the 2019 Sweet Sixteen, where they fended off Houston to advance to the Elite Eight. Since, it was a cancelled NCAA Tournament, a missed NCAA Tournament and then a first-round loss to a 15-seed in the following three years for Kentucky. If UK lost to Providence, they would have at least a five year gap between tourney wins.
But they didn't! Kentucky took care of business and got that monkey off their backs, beating the Friars 61-53. After the game, senior forward Jacob Toppin said the win was a huge relief after what happened last year.
"Yeah, it was a big relief, obviously," said Toppin, who was terrific in the victory. He recorded 18 points and six rebounds while putting the clamps on former Wildcat and Providence leading scorer Bryce Hopkins, who mustered just two made shots on nine attempts against his old school.
"I knew what this team was capable of, so we got the job done," Toppin continued. "So props to my teammates. We all stuck together. Even when they made their runs, we didn't put our heads down. We kept fighting. Defensively, Oscar had 25 rebounds. That's insane. But, you know, we did the little things that won us the game."
Jacob Toppin also spoke on the lack of pressure the team felt while playing. According to the Kentucky forward, the 'Cats were loose and connected on Friday night.
"When we're having fun, when we're not on the court, we're trying to have fun with each other because it lifts all the pressure off of us. When we're not worried about the outcome and we're just playing loose and free, that's when we play our best basketball. And it started off the court. It started us not worrying about anything but just spending time together. I said it yesterday, just living in the moment. That's what we did, and we played possession by possession and came out with a W."
At the moment, Kentucky is preparing to play in the second round of the NCAA Tournament for the first time in any of these players' careers. Kansas State awaits on Sunday afternoon as the Wildcats will try to extract revenge over the other and purpler Wildcats after KSU triumphed over Kentucky in the 2018 Sweet Sixteen.