Jacob Toppin details relationship with his brother Obi, reveals who has the upper hand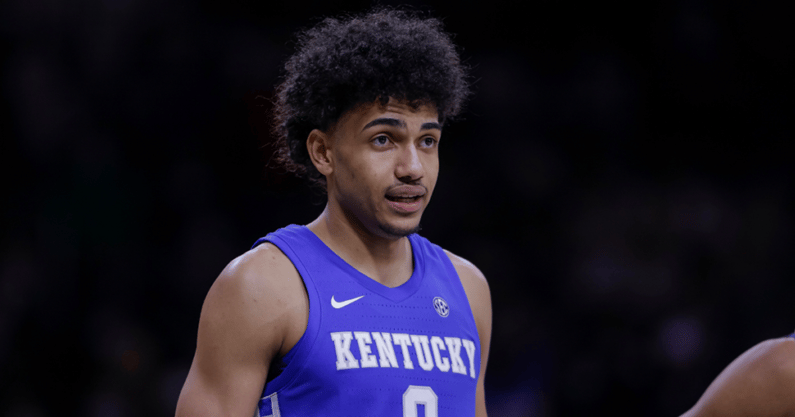 If Kentucky forward Jacob Toppin is on the court, expect the broadcasters to mention his older brother, New York Knicks big man and former Dayton Flyers star, Obi Toppin. The sibling connection to the 2020 National Player of the Year is something he'll never be able to run from, but is now embracing it.
"There's always competition," Toppin said of the relationship between him and his brother. "Even when we were in LA working out, we got into a fight because we're so competitive. He definitely doesn't have the upper hand anymore. I've got the upper hand now."
But what's changed within Jacob's game that he believes he is leaps and bounds ahead of his older brother, a former National Player of the Year? Toppin averaged 6.2 points and 3.2 rebounds per game on a 56 percent clip while nearly 18 minutes a game for John Calipari last year during his second season in Lexington.
Well, it turns out it has nothing to do with Jacob, and everything to do with Obi.
"I'm just a lot faster than him. He can't move his feet well – to be honest, I just go right by him, pull up, do whatever," Jacob said about Obi jokingly.
He still gave credit where credit is due:
"He's still stronger, though. Yeah, he's older, but he's still got a lot of athleticism to him."
If there's one thing that both Toppin brothers have in common, though – it's their ability to perform highlight dunks and make it look easy. That high-flying, rim-rattling style of basketball is something not seen too often at the college ranks, which is a major reason why Obi eventually won NPOY honors alongside NBA Draft lottery status.
Since entering college, he's watched his older brother, Obi, ascend to National Player of the Year honors and become a top-10 pick. The younger brother started showing flashes of Obi's athleticism as a freshman and believes he is on pace to rival his NBA brother.
"It motivates me a lot because to see what he's done, and to see what I'm doing, we're kind of on the same trajectory," Toppin said. "But at the end of the day, everybody has their own path. I'm going to follow my path, he followed his, and hopefully we get to the same spot."