John Calipari says Kentucky is a 'work in progress'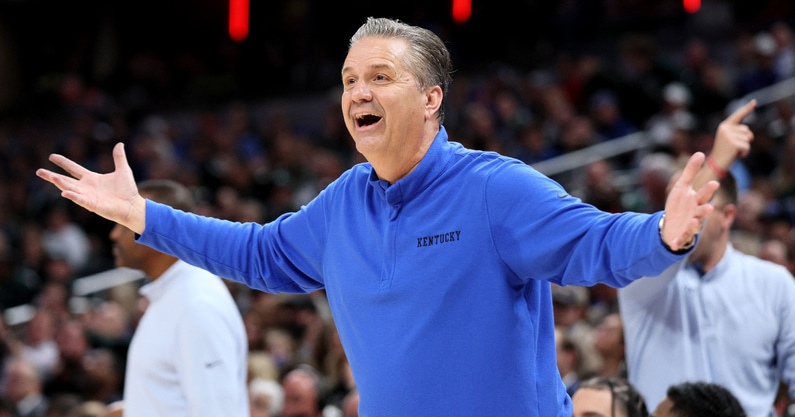 After a 4-2 start to the season with losses to Michigan State and Gonzaga, it doesn't seem like Kentucky is ready to compete against the top college competition just yet. However, head coach John Calipari will tell you that this Kentucky team is improving, but for now, it's a work in progress.
John Calipari explained his thoughts on this group and what they were going to do in the immediate future to the media.
"Look, here's the biggest thing," John Calipari said. "I love this group. They're great teammates. There's still some guys unsure of themselves."
CLICK HERE to subscribe for FREE to the On3 YouTube channel
"Most of them have a ways to go. Some of them want to play a different way than the way this team needs them to play, and I just got to demand you're gonna play it the right way. But, it's a good group and like I said the last time, we're a work in progress," John Calipari explained.
"We're gonna work every day. We get some time, and by the way, Bellarmine–they're good. I mean, they're really good, and so we've got our hands full and then we leave for London."
Kentucky plays Bellarmine on November 29, 2022. It will be the Wildcats' first game since beating North Florida on the Wednesday before Thanksgiving. During that time off, John Calipari is going to try and get his roster to buy into doing the things that they need to do and playing the right way.
In London, Kentucky will play Michigan on December 4, 2022.
John Calipari made a Thanksgiving plea to fans
For Thanksgiving, John Calipari made a special plea to fans. Reach out to those who are alone and bring them into your home.
"I would tell everybody–if anybody's writing this or you're listening; reach out to somebody who you know, maybe by themselves. Invite them to your house," John Calipari said.
"Maybe somebody that's older, maybe a widow, maybe somebody's that's moved to town and they're here by themselves. Invite them to the house. Bring them food and spend some time with them. It's a great time and I think for all of us, that's why we do stuff at Thanksgiving. I want these kids to feel it, what it is."