John Calipari updates Kentucky injury report ahead of SEC Tournament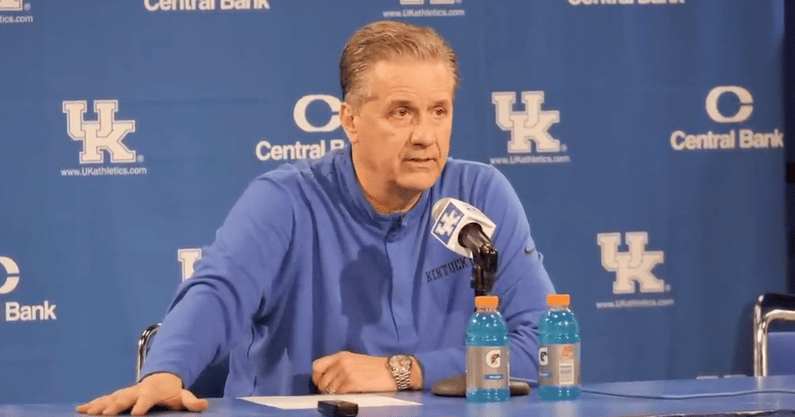 Cason Wallace, CJ Fredrick and Sahvir Wheeler all did not practice Monday, according to Kentucky head coach John Calipari. Fredrick was the only one of the three guards to play in the season finale against Arkansas.
"They're going to have to start practicing. It's not just, 'I'm good to go Friday.' You've got to get on the floor at some point and we'll see," Calipari said, via KSR's Tyler Thompson.
Fredrick, who is dealing with a cracked rib, decided to play hurt against the Razorbacks last Saturday, logging 15 minutes while scoring two points and assisting on four baskets before leaving the game. He was awarded the 'most impactful player' belt after the game for his efforts.
Wheeler hasn't played since Feb. 4 and Calipari said the senior point guard won't be good for a couple more weeks following a minor procedure unrelated to the ankle injury that was keeping him out. Wallace was in a boot on Saturday after leaving Wednesday's game against Vanderbilt after tweaking his ankle as well and is listed as day-by-day heading into the tournament.
Calipari says Kentucky fought 'like crazy' for fans after recent storms
Near hurricane-force winds ripped throughout the Bluegrass State Friday, causing massive damage throughout Kentucky and leaving hundreds of thousands without power from Paducah to Pikeville. 
A dangerous storm brought winds over 75 miles per hour to Lexington as the Kentucky men's basketball team prepared to travel to Arkansas for its regular season finale. The Wildcats are coming home victorious after an 88-79 win, and head coach John Calipari dedicated the dub to all of Big Blue Nation affected by the storm.
"I know a lot of Kentucky is still struggling as you recover from this latest storm, so I want you all to know our program is here for you and we wanted to fight like crazy yesterday to give you something to smile about," Calipari tweeted. "We take pride in representing you all every game!!"
Calipari also revealed that he is still without power in his home following the storm, and he and his wife, Ellen, slept by the fireplace last night — although, she slept on the other side of the room.
Kentucky awaits its SEC Tournament opponent in the quarterfinals, which is set for Friday, March 10 in the late game slot, which is roughly 25 minutes following the conclusion of Texas A&M's quarterfinal game at 7 p.m. ET.