Oscar Tshiebwe admits Texas A&M game was physical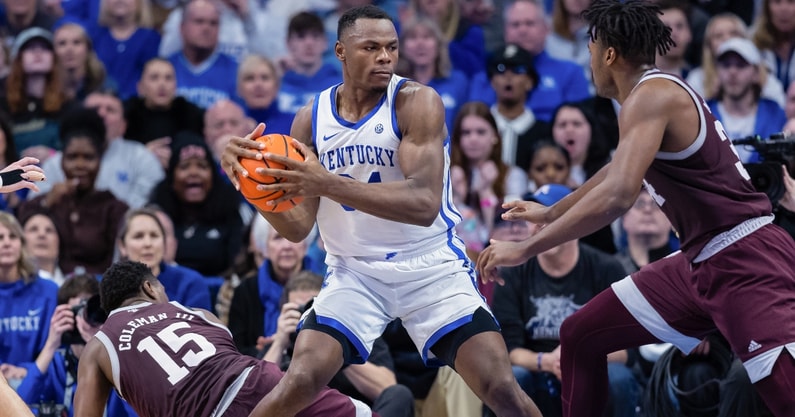 Kentucky star center Oscar Tshiebwe is no stranger to physicality, there may not be a word that describes his style of play better. So when even he admits that a team or a game is physical, you better believe it. Kentucky's matchup on Saturday versus Texas A&M was one of those games, as Tshiebwe detailed why that was the case.
"It was a lot of physical today, a lot of physical because these people they were just pushing," Tshiebwe said. "You seen me go against 34, he was a physical guy, we would just go against each other. He was just a tough matchup, for me and him, it was tough because we knew they were physical."
Tshiebwe was referring to his matchup with Aggies center Julius Marble, as the two battled all night in the paint and fought for every point and rebound. Marble had his sixth straight game scoring in double figures, scoring 12 points on Saturday. He won his scoring matchup versus Tshiebwe, as Oscar was held to a pedestrian 7 points, but Tshiebwe dominated the boards per usual out-rebounding Marble 17 rebounds to just one.
"They were sending, I don't even know how they let me grab 17 rebounds because they sent three people on me every time. I don't know some basketballs just find me, it just finds me wherever I am, just comes to me. I was just fighting too, they got me out first half, I was in a little bit of foul trouble. My second half I just said let me go fight," Tshiebwe said.
There's no question that Tshiebwe and the Wildcats fought in the second half, down two points at halftime and rallying in a 47-point-second-half scoring outburst to win 76-67. The Wildcats carrying that momentum in their next game versus Vanderbilt, defeating the Commodores 69-53.
Tshiebwe bounced back in the scoring department versus Vandy, scoring 15 points along with 13 rebounds for his 12th double-double of the season. His 16.6 points per game rank fourth in the SEC, and his 13.9 rebounds per game rank No. 1 in the entire country.
The former National Player of the Year has definitely been handling business lately, helping lead the Wildcats to four straight victories. However, in their next game, they may need him to have one of his best game's to date, as the Wildcats face No. 9 Kansas in their lone non-conference matchup remaining this season on Saturday at 8:00 p.m. ET.