LOOK: DeAndre Square, Kentucky staff member make peace after trucking incident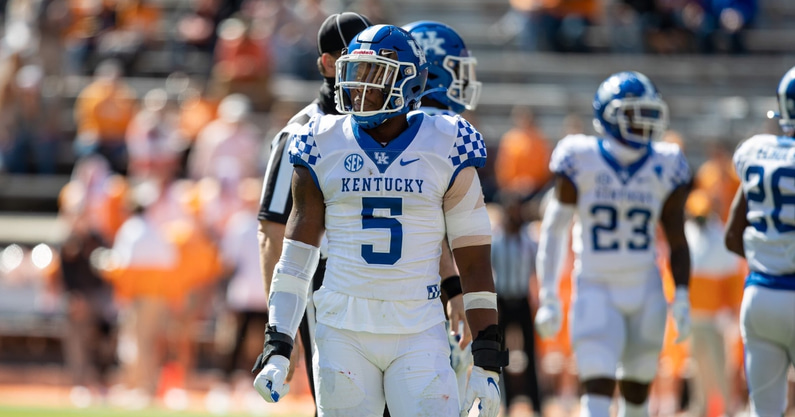 DeAndre Square caught a lot of flack after he trucked a member of his own team's staff. Today, the Kentucky linebacker revealed the two made peace following the incident.
Yesterday, as Square chased South Carolina quarterback Luke Doty out of bound, he picked up steam. As he slowed down to a jog, Square's path led him towards the man now known as Tink.
Instead of trying to avoid him, Square extends his arms and pushed the member of Kentucky's staff. Of course, un-expecting and confused — the staff member goes flying and tumbling down.
On the season so far, Square has 14 tackles in two games played. However, everyone was left wondering just what he was thinking by pushing down one of Kentucky's own.
"Pumped up in a heated game — my boy Tink took one for the team," tweeted Square after the game. "My bad Tink."
Square: 'No bad blood.'
Earlier, Square tweeted that there's no bad blood — he just was too pumped up for Kentucky's huge SEC matchup.
"I was just too pumped up," tweeted Square in the replies. "I don't know why I did it, no bad blood."
Square may have meant no harm, but there's certainly better ways to show your passion on the sidelines than pushing a staff member. Finally, the Kentucky linebacker tweeted that he can't believe that video is going viral.
"No way I'm going viral for that," tweeted Square. "Sick about it."
The Kentucky defense had a great night against South Carolina, holding the Gamecocks to just 216 total yards and 10 points. While he should be going viral for being part of a great performance, DeAndre Square's now going to have to answer questions related to his viral push this week.
Next week, the Kentucky Wildcats take on Florida in a huge matchup. With the stakes even higher, we'll see if Tink is on the Kentucky injury report prior to the game.