2024 4-star CB Zion Ferguson to LSU: "I followed my heart"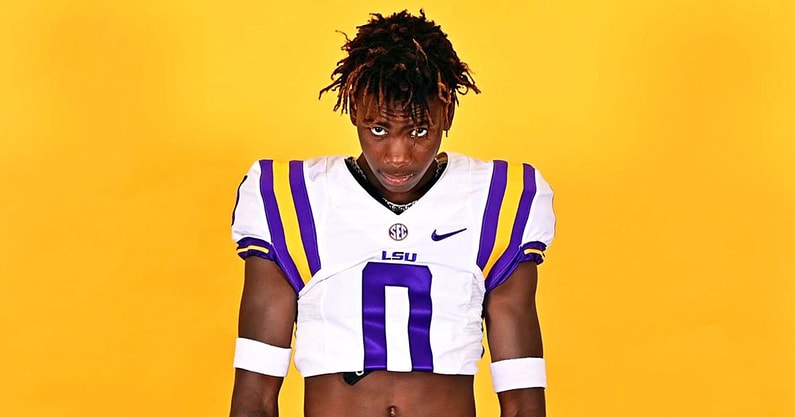 Zion Ferguson grew up a fan of the LSU Tigers. His favorite player was Tyrann Mathieu. Since emerging as a top recruit, the 2024 four-star cornerback out of Loganville (Ga.) Grayson has visited Baton Rouge four times.
The No. 155 prospect in the On3 Consensus didn't see any reason to wait. Ferguson was ready to act on his feelings.
"I followed my heart," Ferguson told On3. "No other school has given me the feeling that LSU has. I have been leaning towards LSU for a while. I made the decision official last week and I can't go wrong following my heart."
Ferguson's first visit to LSU was last summer. Since the coaching change, the 6-foot, 150-pound junior has visited three times. What Brian Kelly is building, Ferguson wants to be a part of.
"The more schools I visited, the more LSU separated from the others. I was high on LSU from the beginning because it was my dream school, but the culture under BK made it the one.
"The people there make the culture special. I felt different when I was at LSU. From BK to the assistant coaches to the recruiting analysts to the players – LSU was just different. It is what I want to be part of."
Zion Ferguson sees LSU back on top soon
In 2019, LSU went 15-0 and won the national championship. LSU has made a coaching change and it expects to win at a high level again sooner rather than later.
Ferguson is a believer in Kelly.
"LSU is going to be back to a national championship team very soon," Ferguson said. "BK is a winner. He has created a new culture at LSU and he is setting the bar high.
"BK has a great past with all of his wins. He has a great reputation as a winner. He knows how to prepare his teams to win. With what BK and the staff is doing, LSU will be at the top again soon."
Zion Ferguson is ready to learn from Robert Steeples
He has been a head coach on the high school level. Before joining Kelly at LSU, Robert Steeples was working with the Minnesota Vikings. His experience, combined with his ability to teach, factored into Ferguson's commitment.
"Coach Steeples knows how to teach and coach," Ferguson said. "He has a teaching background, so he knows multiple ways to coach, teach the position, and help show the ways to improve.
"I was very impressed with how he can explain and teach things about my position. My mom has worked in the school system and she was very impressed with him too. We both like his background and how he can teach and relate.
"His experience, his knowledge, and the multiple ways he knows how to teach impressed me. I talked to players about him too, and they all love him. Coach Steeples makes it as easy as he can to teach and I am excited to work with him."
This is a dream coming true for Zion Ferguson
A long list of schools offered Ferguson. The No. 18 cornerback in the country picked LSU over Arkansas, Auburn, Michigan State, South Carolina, and Tennessee.
He gave numerous schools his attention over the last year, but LSU is the one.
"LSU is known as DBU, I grew up a fan, and this is like a dream coming true," Ferguson said. "They have a great history of winning and developing players on both sides of the ball.
"There was no reason for me to wait any longer. LSU is where I want to go. It is the culture I want to be in. BK will have LSU back at the top soon."
Ferguson is the third member of his Grayson team to commit to LSU. He joins Michael Daugherty (2023 safety) and Joseph Stone (2024 athlete).