Jacob Hester weighs in on LSU running back Tyrion Davis-Price's draft destination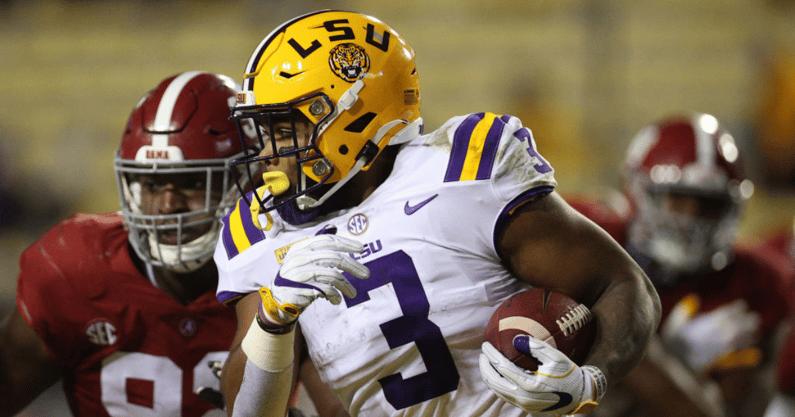 The San Francisco 49ers selected Tyrion Davis-Price in the third round of the 2022 NFL Draft after his successful college career at LSU. As he starts his NFL career with an established playoff team, Davis-Price already has the support of former players who love the fit he found.
Former LSU football star and NFL fullback Jacob Hester provided an in-depth evaluation of why Tyrion Davis-Price could have great success in Kyle Shanahan's offensive system for years to come.
"I love this fit for TDP," Hester tweeted on Friday. "Go watch all the success he had in gap scheme runs in 2021. In the Florida game he had an LSU record 287 yds, and 3 TD's. He had 36 attempts that day and it was mostly gap scheme runs (power/counter). He'll thrive in the 49ers run system."
With evidence to support his case, Jacob Hester provides a unique perspective which could impact how some view Tyrion Davis-Price entering his rookie season, both on the field and in fantasy football leagues.
The history of LSU running backs in the NFL also shows a great future could be ahead as he joined Clyde Edwards-Helaire and Leonard Fournette on rosters for the upcoming 2022 season.
More about Tyrion Davis-Price
Tyrion Davis-Price led LSU in rushing in 2021. Now, the former Tigers standout is taking his talents to the NFL with a chance to establish himself early in the 49ers rushing attack.
He joins a backfield which also features second-year players Elijah Mitchell and Trey Sermon, along with veterans Jeff Wilson and JaMycal Hasty. With speculation that 2021 draft selection Trey Lance will take over from Jimmy Garoppolo at quarterback this season, he can also provide a rushing threat along with disgruntled wide receiver Deebo Samuel if on the roster.
Davis-Price took 211 carries for 1,003 yards and six touchdowns for the Tigers this past season. His biggest game of the year came against Florida when he rushed for 284 yards and three touchdowns to lead LSU to a 49-42 victory. He burst onto the scene as the Tigers' lead back, and it led to some draft looks. Now, he's heading to the league, foregoing his senior year to do so.
Out of high school, Davis-Price was a four-star recruit and the No. 8 running back prospect from the Class of 2019, according to the On3 Consensus, a complete and equally weighted industry-generated average that utilizes all four major recruiting media companies.