Brian Kelly takes blame for blocked field goal miscue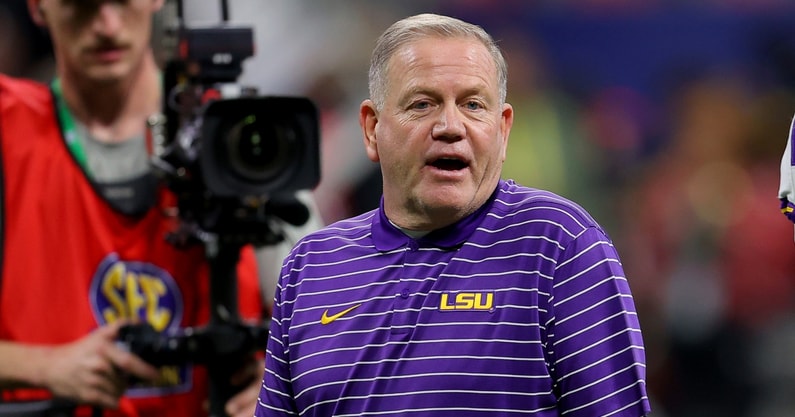 It was a rough night for Brian Kelly and the LSU Tigers on Saturday, as they fell to Georgia in the SEC Championship game 50-30. The Bulldogs drew first blood in the game, scoring the first touchdown on a blocked field goal returned 96 yards for a touchdown by defensive back Christopher Smith.
The ball was tipped and rolled beyond the line of scrimmage and was sneakily scooped up by Smith as LSU players headed towards the sideline following the block, a miscue which Kelly took full responsibility for.
"Obviously we did a poor job coaching, it's our responsibility to have our guys alert in that situation. They were not alert and that falls on coaching, and that that falls on my shoulders and I take full responsibility for that," Kelly said.
The Tigers responded quickly to the mistake, scoring a touchdown on their following drive, a three-play series capped off by a 53-yard touchdown catch and run by Kayshon Boutte.
But from that point forward it was the Bulldog's game, as they scored four straight unanswered touchdowns all behind the arm of Stetson Bennett and protected their lead for the remainder of the game.
The Tigers did not end the regular season or championship weekend the way they wanted, falling to both Texas A&M and Georgia in double-digit losses. But they will have an opportunity to end their season off on a high note next month, as they take on Purdue in the Cheez-It Citrus Bowl on January 2 in Orlando, Florida.
Kirby Smart, Chris Smith break down blocked field goal return
Georgia's 50-30 SEC Championship win over LSU was full of highlight plays for the Bulldogs, but none were more compelling than defensive back Christopher Smith's to start off the ballgame. Georgia blocked a field goal attempt by Tiger's kicker Damian Ramos, which rolled to Bulldog's four-yard line as players from both teams began to head towards their sidelines.
Smith made a heads-up play though, waiting patiently for the right time to scoop up the ball and take it 96 yards for the opening touchdown of the game. Smart and head coach Kirby Smart spoke about the play following the game, a moment created from preparation.
"I'll let Chris answer, but Chris knows we watch those in the team meeting about once every three weeks and I'll let him talk about it," Smart said.
There is no shortage of rules in the game of football, and knowing as many as possible certainly pays off in unique situations like the one Smith found himself in on Saturday, as he told his side of the story of his high IQ play in the championship game.
"Yeah like coach said, that's a scenario we go over a lot," Smith said. "We know if the ball passes the line of scrimmage we have an opportunity to be able to pick it up and I was just waiting to get the go from the sideline. As soon as the sideline gave me the go, I just picked it up and started hitting it."
Smith hit it all the way to the end zone, starting off the Bulldog's dominant day with a bang and not breaking Smart's one rule if you do decide to scoop up a blocked field goal that falls beyond the line of scrimmage.
"The rule is you're not allowed to pick it up unless you score with it," Smart added.