LSU set to hire former Ed Orgeron assistant Gerald Chatman as defensive analyst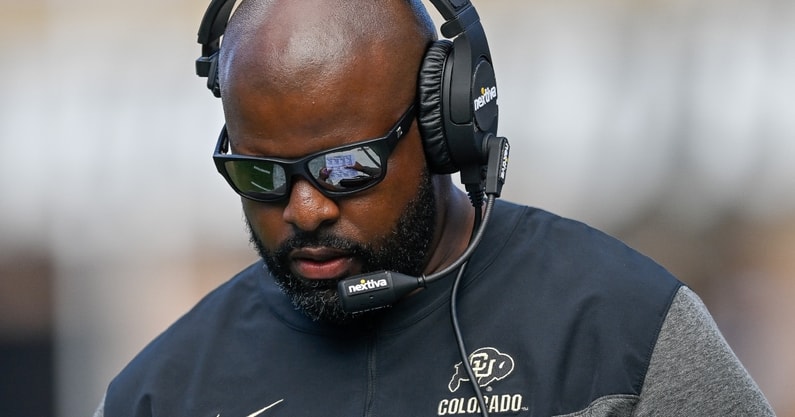 An old friend in Gerald Chatman is returning to Baton Rouge.
According to Matt Zenitz of On3, Chatman — who served as an assistant under Ed Orgeron with the Tigers in the past — is joining Brian Kelly's staff at LSU as a defensive analyst.
"LSU is hiring Gerald Chatman as a defensive analyst, sources tell @on3sports," tweeted Zenitz. "Chatman, who previously worked at LSU under Ed Orgeron, was Colorado's defensive line coach and interim defensive coordinator this past season."
Of course, Chatman saw what beautiful success looked like at LSU — but also how far the Tigers could fall when Orgeron was ousted. Now, he's returning as their fortune changes, as Kelly is changing the narrative around the Tigers.
Brian Kelly reveals what will stand out about his first year at LSU
Meanwhile, Brian Kelly had a fascinating first season at LSU, filled with fake accents and amazing victories throughout. 
Many doubted Kelly's ability to connect with the Tigers culture, but a victory over Nick Saban and a dominating victory in the Cheez-It Citrus Bowl have LSU's future bright as ever. Speaking with the media after taking care of Purdue, Kelly elaborated on what he'll remember most about his first season in Baton Rouge. 
"Probably the relationships with the players, and developing new relationships with 115 players Getting to know them. That — to me, in Year 1, the first time here — you don't know any of the players, and they don't know you. I think that press conference — our first meeting, said, 'Hey, we're going to build trust, but it's going to take time, for both sides.' I think that that's what happened," explained Kelly. "I'll remember that in Year 1. The process of building trust."
Bringing Brian Kelly from Notre Dame to LSU was a big swing, but it's paying off already. The Tigers are in good hands with Kelly captaining the ship moving forward.