Paul Finebaum evaluates how Texas A&M 'exposed' LSU in Week 13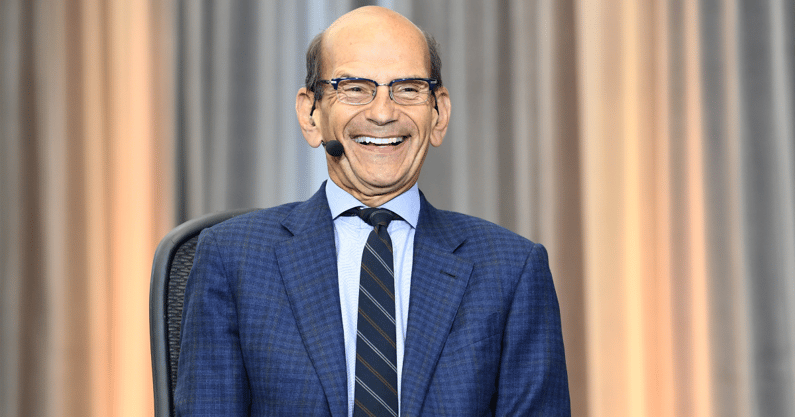 Paul Finebaum believes the result of Saturday's game in College Station revealed something about both Jimbo Fisher and LSU. Texas A&M handed the Tigers a 38-23 loss to end their College Football Playoff hopes, causing Finebaum to declare that LSU was "exposed for not being an elite team."
The ESPN analyst also claimed in a Sunday appearance on the network that Fisher has a tendency to get "bored easily" if it's not a big matchup, which was the case Saturday.
"I was with (Tim) Tebow yesterday and Jordan Rodgers, and they both said something interesting," Finebaum said. "They said, 'When Jimbo Fisher is interested in the game, he dials up a great game plan.' He did it for Alabama. Came down to a final play. Jimbo just gets bored easily against the minor teams like Ole Miss and Mississippi State, who I think both have beaten him two years in a row.
"This was a bad matchup just from an emotional standpoint for Brian Kelly. His team was probably looking ahead with everything clinched. I think also, LSU got exposed for not being an elite team. They just didn't handle the moment, and that does not portend for a compelling SEC Championship Game."
LSU still has a chance to close out its season strong in the SEC title game against Georgia as well as its bowl game. In reality, a chance to reach 10 wins in Brian Kelly's inaugural season is still better than most predicted, even if missing out on the Playoff does sting.
As for A&M, they'll at least end an otherwise brutal season on a positive note. But what Saturday's game also does in the eyes of Paul Finebaum is hurt the CFP chances of Alabama, which is hoping to sneak in despite losing to LSU and Tennessee earlier this season.
"(Texas A&M) ended up 5-7," Finebaum said. "They lost, I think, six games at one point. Their SEC wins were over Arkansas and LSU and they lost everything else. Jimbo's the king of spin, so he'll figure out a way to turn this into a really good season. 'Guys never quit.' But what it really did, though, it dinged up LSU for anybody who is trying to live off of that game.
"Tennessee was living off of it for a long time, that's a moot point now. Alabama's trying to live off of it. It didn't help them. In the end, LSU will still have a very good season, but it's going to be very difficult to get over what I think will be two straight losses to end it."
Ultimately, the results of this weekend's conference championship games will matter much more for the Crimson Tide's hopes of making the CFP. But Finebaum's original point about LSU still stands, and it appears the Tigers' title hopes will have to be put on hold at least one more season.