Paul Skenes details the differences in not being a two-way player at LSU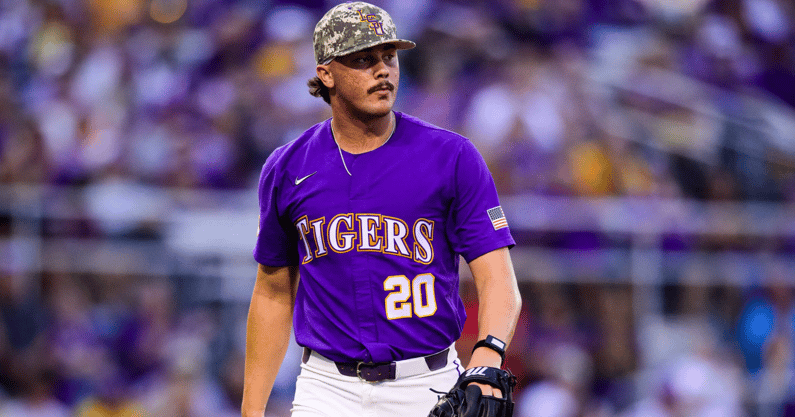 LSU is home to the SEC Pitcher of the Year, with Paul Skenes taking home the award. When he transferred into the program, everybody knew he was going to make an impact on the mound. But Skenes was expected to continue to rake and be a crucial member of a lethal Tigers line up as well.
Once the season got underway, Skenes decided to become a full-time pitcher and stray away from being a two-way player. That was never a part of the plan according to Skenes, saying there never really was one. Originally, all he knew was the Opening Day pitcher against Western Michigan would have him on the bump.
"No, I don't think you can really have a plan and it stick together," Skenes said. "Obviously we had some guys get hurt. I didn't know I was going to not be hitting. We figured that all out. Honestly I didn't know what the plan was going to be entering the year, but it's been a cool journey to see and to let it play out."
Skenes admitted he misses being in the batter's box. And can you blame him? During his sophomore season at Air Force, Skenes hit .314 with an 1.046 OPS in 182 plate appearances. He drove in 38 RBIs and hit 13 home runs. The only negative aspect to his game was a near 2/1 K/BB ratio.
If LSU wanted him to, Skenes could still have a few at bats throughout the week. Him hitting somewhere around the top of the lineup would make it murderers' row for opposing pitching staff. However, the risk is not worth the reward to Skenes or the coaching staff for multiple different reasons.
"I want to hit for sure," Skenes said. "But I want to win more than anything. I think the risk-reward is pretty clear that the risk of going in midweek and taking an at bat — could hit me in the hand or something like that. It's just not worth it.
"That was kind of my mindset this year. I think it only increased as our season went on. I miss hitting, obviously. I miss catching too. It's definitely made it easier to develop as a pitcher."
Skenes has developed plenty and is expected to be selected No. 2 overall in the upcoming 2023 MLB Draft. Had he stuck with hitting, a team likely would have still called in the first round. Showcasing his dominance as a full-time pitcher has upped Skenes' draft stock though.
Jay Johnson impressed with Paul Skenes, pithing development
When head coach Jay Johnson brought Skenes to Baton Rouge, everyone thought they were adding the best two-way player in the country to LSU's roster. Instead, they added the SEC's best pitcher, something they consider worth the trade off.
"It's remarkable," Johnson said. "Him focusing on pitching and not being a two-way player has really helped him in a lot of ways. Helped him keep his strength in his legs and his body. Limit the amount of rotations. It's helped him recover better."
Johnson is not looking to take too much of the credit. He mentioned pitching coach Wes Johnson working with Skenes on his slider. It's developed into an elite pitch nobody in the SEC has really been able to hit this season.
"He and coach Wes Johnson really went to work on his slider," Johnson said. "It's a dominating pitch. It's one of the best pitches I have ever seen any college pitcher throw. Pair that with a fastball that gains velocity and a changeup. The person, we knew what we were getting."